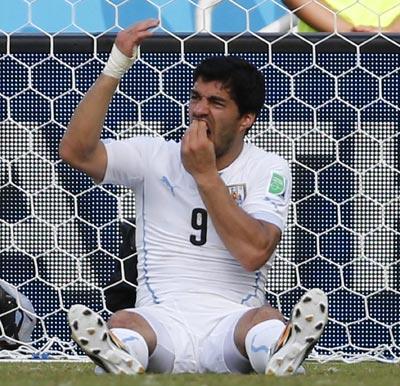 Uruguay's Luis Suarez has been suspended for nine matches and banned for four months from any football-related activity for biting an opponent during the World Cup match against Italy.
He was also fined 100,000 Swiss francs (65,255.81 pounds).
"Such behaviour cannot be tolerated on any football pitch, and in particular not at a FIFA World Cup when the eyes of millions of people are on the stars on the field," Claudio Sulser, chairman of the FIFA Disciplinary Committee, said in a statement.
- The dark side of genius Suarez
"The Disciplinary Committee took into account all the factors of the case and the degree of Mr Suarez's guilt in accordance with the relevant provisions of the Code. The decision comes into force as soon it is communicated."
Suarez will miss Uruguay's last-16 match against Colombia in Rio de Janeiro on Saturday and will play no further part in the tournament in Brazil if they progress.
He missed the first match of the tournament due to injury but returned to score twice in Uruguay's 2-1 win over England.
Suarez will not be able to train or attend matches with his English club Liverpool until late October, meaning he will miss at least nine Premier League games and the start of their Champions League campaign.
"Liverpool Football Club will wait until we have seen and had time to review the FIFA Disciplinary Committee report before making any further comment," Liverpool chief executive officer Ian Ayre said on the club's website.
Suarez can appeal against the ban, the longest FIFA has imposed for an offence at a World Cup, but it would remain in place while any appeal was heard, said a FIFA spokeswoman.
The previous record ban was eight games on Italy's Mauro Tassotti for breaking the nose of Spain's Luis Enrique in 1994.
The 27-year-old Suarez, voted England's Footballer of the Year after scoring 31 league goals for Liverpool last season, has now been involved in three incidents of biting opponents.
The most recent incident in question came 10 minutes from time in Uruguay's Group D game against Italy. Television footage showed Suarez's mouth come down on the shoulder of Italian defender Giorgio Chiellini, who accused him of biting.
The Italians were still complaining when Uruguay's Diego Godin scored with an 81st-minute header to secure a win that sent the South Americans through to the last 16 and eliminated four-times champions Italy from the tournament.

Chiellini pulled down his shirt, and photographs showed what looked like bite marks on his shoulder.

Suarez, though, denied biting.

"Those are situations that happen on the pitch. We were both just there inside the area. He shoved me with his shoulder, and my eye got left like that also," he said on Tuesday, in reference to Chiellini's marks.
- Catch the complete coverage of the Football World Cup
Image: Uruguay's Luis Suarez

Photographs: Yves Herman/Reuters