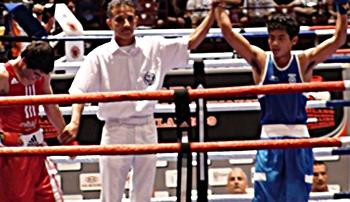 Asian silver medallist T Nano Singh lifted spirits in the Indian camp after scoring a thumping 21-6 victory over Mamishzade Elvin of Azerbaijan in the first round of the 48kg category at the World Boxing Championships in Milan, Italy.
It was a much-needed win for India to revive its campaign after four of the country's boxers bit the dust in the first round, the most disappointing of all being the defeat of Olympian Akhil Kumar on Thursday night.
Jai Bhagwan is the only other boxer to have booked a second round berth.
Asian champion Suranjoy Singh (51kg), Jitender Kumar (54kg) and Manoj Kumar (64kg) are the pugilists who lost their opening round bouts.
However the dismal show by his compatriots had no effect on Nanao as he went on to score a comfortable victory.
He broke through the Azerbaijan boxer's defences at will and attacked with crisp uppercuts and straight left jabs to create a handsome 7-2 lead by the end of first round.
With every passing round, Nanao consolidated his lead and easily cruised into the next level.
However the road gets tough for Nanao as, in a repeat of Asian final, he will next take on Thai Pongprayoon Kaeo.
Nanao had lost a close bout to Pongprayoon at the final of the Asian Boxing Championships at Zhuhai and settled for a silver medal.