Reigning F1 champ warns Bottas about Hamilton rivalry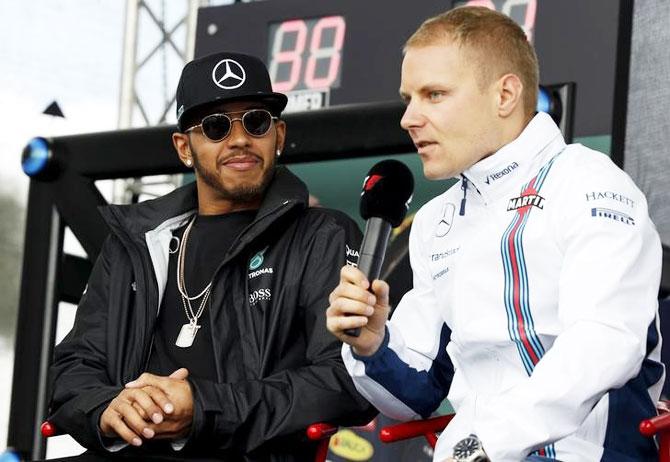 IMAGE: Mercedes' F1 driver Lewis Hamilton and former Williams F1 driver Valtteri Bottas will be teammates this season and it will be interesting to watch their rivalry on the track. Photograph: Brandon Malone/Reuters
Retired Formula One world champion Nico Rosberg has warned his Mercedes replacement Valtteri Bottas not to expect an "easy ride" from teammate Lewis Hamilton.
Speaking ahead of the Laureus World Sport Awards on Tuesday, the 31-year old said he would be happy to give the Finn some advice ahead of the season-opening Australian Grand Prix in March.
"I would tell him don't expect an easy ride, that's for sure," Rosberg told reporters in Monaco. "It's going to be challenging coming into a newteam with Lewis having been there for so many years and with the new regulations.
"Lewis is one of the best out there so the level is extremely high. At the same time Valtteri is very talented. He can achieve great things as well, as long as the team give him a good car.
"He (Bottas) has asked if we can have a chat soon and I am happy to do that, of course – but I will stay very, very neutral. I won't give away any Lewis secrets for example, I'll just help him in a way to integrate better into the team." Rosberg beat Hamilton to the 2016 drivers' title only to announce his shock retirement days later, walking away from a contract reported to be worth around 18 million pounds ($22.48 million) a year.
Bottas, 27, has joined the champions after spending the five previous seasons at Williams.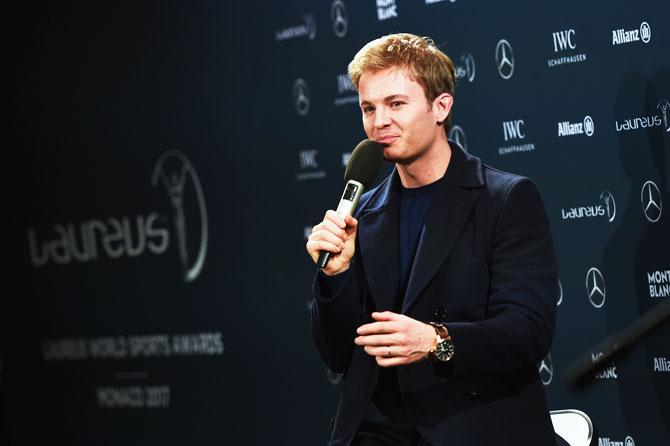 IMAGE: Laureus World Breakthrough of the Year nominee and Laureus Ambassador Nico Rosberg of Germany speaks at a media interview prior to the 2017 Laureus World Sports Awards at the Sea Club,Le Meridien in Monaco on Monday. Photograph: Eamonn M. McCormack/Getty Images for Laureus
This week Rosberg suggested his own long-standing rivalry with Hamilton, which started when they were teenagers in karting, had added friction and he would often feel even angrier when the Briton did "something that crosses the line".
But the German, whose tense relationship with Hamilton on and off the track has been well documented, did not rule out a reconciliation with the three-times world champion.
"The competition has gone completely, sadly. We've already had some nice, relaxed moments and who knows, I am open to having a better relationship with him again in the future," he said.
"We were best friends after all, 15 years ago." Rosberg has been nominated in the World Breakthrough Of The Year category at the 2017 Laureus World Sport for securing his first F1 crown last year.