India's dream run in the women's junior hockey World Cup ended when they were beaten by defending champions the Netherlands 3-0 in the second semi-final, in Monchengladbach, Germany, on Friday.
The Indians, who registered their best ever performance in the tournament, put up a brave fight against their fancied opponents but it was not enough to earn them a place in the title clash.
The Dutch girls sounded the board thrice, through Lieke van Wijk (17th minute), Lisanne de Lange (57th) and Lisa Scheerlinck (68th.
In Sunday's final they will face Argentina.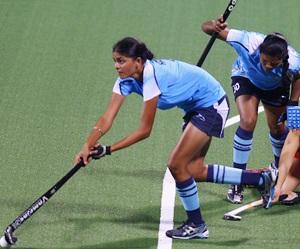 India will take on England in the third-fourth place play-off match.
In the first semi-final, Argentina defeated England by an identical 3-0 margin.
In the first half, much of the action was centred around the midfield as both the teams struggled to create promising scoring opportunities from open play.
India put an inspired performance in the opening 17 minutes before the Netherlands took the lead through the tournament's top-scorer van Wijk, who converted her side's first penalty-corner with a fierce drag flick that beat goalkeeper Chanu Sanarik Ningombam all ends up.
A few minutes later, the Dutch girls forced another penalty corner but the resultant shot went wide.
India had a promising scoring opportunity before half-time when they earned their first penalty-corner but failed to cash in on the opportunity.
The Indians tried hard for the equaliser only to be denied by the compact Dutch defence to go into the breather trailing 0-1.
The Indians continued to impress after the change of ends but goals eluded them. They stepped the pace up after the break and forced their second penalty-corner in the 41st minute but to no avail.
If not for India custodian Ningombam the margin of defeat could have been bigger. She made two tremendous saves to deny van Wijk from their third penalty-corner.
De Lange doubled the Dutch lead in the 57th minute with a field goal.
With six minutes from the hooter, Rani got a great opportunity to pull one back for the Indians only to be denied by Netherlands goalkeeper Anne Veenendaal.
Lisa Scheerlinck took the game away from India's grasp when she scored from a counter-attack just two minutes from time.
Image: The Indian girls in action during the match
Photograph: Feng Li/Getty Images