Spain coach Luis Aragones said their 1-0 victory over Germany in Sunday's Euro 2008 final was just the beginning for a talented young side which he believed could win the World Cup.
Aragones, speaking after his last match in charge of the national team, told a news conference: "Lots of people have looked at this Spain as a model of how football should be played.
"I have often thought that if I could manage this team relatively well then we would be champions, because we have got so many quality players.
"I think this team can continue along this path and win more titles.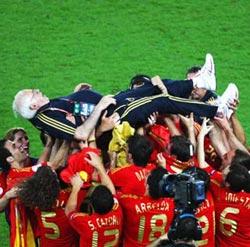 "We have players that are some of the best ball players and passers in the world...The players have matured since we went out of the World Cup and we have constructed a group that can win the European Championship and is capable of winning the World Cup."
Aragones, who will turn 70 in July and was the oldest coach at Euro 2008, has made it clear he will step down after the tournament.
He is expected to take up a lucrative offer from Turkish club Fenerbahce to coach the team for the next two seasons.
Sunday's victory ended his country's 44-year wait for a major trophy.
Spain's only previous title at senior level came on home soil when they beat the Soviet Union 2-1 in the final of the European Championship at the Bernabeu in 1964.
They reached another final of the European Championship 20 years later, but lost to France.
"I remember seeing the game in 1964 because I was part of the squad in the qualifying matches and although I didn't play, as they didn't use the substitutes then, I felt part of it just like the players on our bench did today," said Aragones.
"We have worked to make everyone in the squad feel important and we've succeeded. It is a happy day for Spain because we've won the Euro in brilliant fashion. We can now say that we can win any trophy."