The daunting prospect of facing Serena Williams in your first Grand Slam final looked even tougher for Poland's Agnieszka Radwanska on the eve of the Wimbledon showpiece when she failed to attend a news conference because of illness on Friday.
Radwanska, 23, confirmed she was still suffering with a throat infection which forced her out of the women's doubles.
"Unfortunately, I have picked up an upper respiratory illness, which is affecting my nose and throat," she said in a statement issued by the All England Club.
- Federer whips Djokovic to reach Wimbledon final
"I have been playing a lot of matches here in the rain and cold wind, and I haven't been well for a few days. The most important thing is that I'm feeling good on the court and playing some good tennis, despite not being able to talk much away from the court.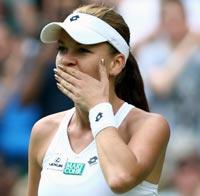 "The priority is my singles match tomorrow, so I will do whatever it takes to make sure I'm ready to play the best I can.
"It was unfortunate that the illness meant I had to withdraw from doubles. Of course, it is always a good sign to be playing singles and doubles in the second week of a Grand Slam, but I wasn't able to continue in both events."
It is the worst possible time for Radwanska, the first Polish woman to reach a Grand Slam final since Jadwiga Jedrzejowska at the 1939 French Championships, to fall ill.
Victory over four-times champion Williams, the red-hot favourite for the title, would put Radwanska top of the world rankings for the first time.
There were worrying signs for Radwanska after her semi-final victory over Angelique Kerber when she coughed and spluttered in the post-match press conference.
"As everyone could see yesterday, I wasn't able to complete my press conference," she said. "I was really hoping that I would have improved overnight so I could come in to finish my press today, but unfortunately I can't speak for very long, and so I have done as much as I can do today. I'm very sorry about that."