Wimbledon's new head groundsman said on Thursday he is "100 percent happy" with the grass courts despite a string of players tumbling out of the tournament through injury.

Reflecting on his baptism of fire as Wimbledon's number one "Turf Man," Neil Stubley said: "We are still confident this morning coming in that we are still producing the best tennis courts in the world."
- PHOTOS: Sharapova, Wozniacki tumble out of Wimbledon

Wednesday's day of shocks and slips provoked tabloid headlines like "Wimbledon carnage" with Croatian player Marin Cilic calling it "a very black day."

"We are 100 percent happy with the playing surface and it's no different to any other year," he said.

Second seed Victoria Azarenka called on the organisers to examine the state of the courts after taking a fall on what she called a slippery court one on Monday. Her knee failed to recover in time for her second round match.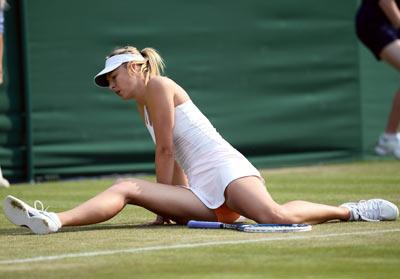 Then on Wednesday seven more players joined the Wimbledon casualty list in what was a record number for one day at a Grand Slam tournament. Along with Cilic, the wounded in action list included Radek Stepanek, Steve Darcis, Guido Pella, Philipp Kohlschreiber and Romina Oprandi and John Isner - who managed to get through 183 games over 11 hours in his marathon match against Nicolas Mahut three years ago.

American Isner and Cilic pulled out with knee injuries. Belgium's Darcis, who had stunned Wimbledon by knocking out Rafael Nadal in the first round, succumbed to a shoulder problem and Czech Stepanek had trouble with his left hamstring.

Maria Sharapova was overheard on the court microphone calling her court "dangerous" as she slipped a number of times before eventually departing the tournament via the scoreboard.

Asked about that comment, Stubley said "It's her opinion. Lleyton Hewitt played on the court an hour before and thought it was fine."

Phlegmatic about what the players and press had to say, he added "It's part of the job working at a high profile event. We are under the spotlight. We will take it on the chin.".

It is his first time in charge since the retirement of long-time groundsman Eddie Seward.

"We are fully confident that we have prepared them how they should be prepared every year. By day four, as far as I am concerned, they are wearing exactly how they should be," he added.

Former Wimbledon champion Boris Becker sprang to the defence of the courts. The German, renowned in his heyday for throwing himself around in spectacular dives, said "The grass is always going to be slippery in the first couple of matches. That has been the case for the past 100-plus years."

Photograph: Dennis Grombkowski/Getty Images