Roger Federer set pulses racing as he diced with danger for more than three hours before dousing the fireworks of French buccaneer Julien Benneteau with a pulsating 4-6, 6-7, 6-2, 7-6, 6-1 Wimbledon third-round win on Friday.
Just 24 hours after Rafa Nadal's demise, Frenchman Benneteau sent shockwaves of equal magnitude around the All England Club as he destroyed Federer during the first two sets with ferocious forehands, belting backhands and incredible reflex shots.
The Frenchman stood two points from victory in the fourth set but Federer showed the mental strength that has earned him a record 16 grand slam titles to stand firm as he steered the match into a fifth set.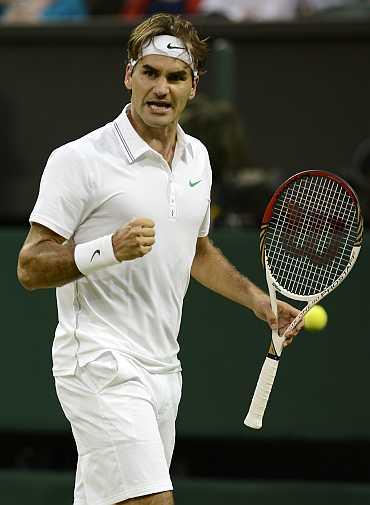 Once there, Benneteau seemed like a spent force as he limped between points and even called on the trainer to massage his exhausted limbs back to life but it was to little avail as the Swiss master booked a fourth-round match against Belgium's Xavier Malisse.
Clisters through as ailing Zvonareva retires
Kim Clijsters reached the last 16 at her farewell Wimbledon on Friday when Russia's Vera Zvonareva was forced to retire through illness trailing 6-3, 4-3 in their third-round match.
Belgian Clijsters, the former world number one who will retire after the U.S. Open in August, dominated the 12th seed who left the court for treatment after a respiratory infection made it difficult for her to breathe.
Zvonareva, runner-up at the All England Club two years ago, said she had been suffering with the problem for the last four days after retiring on a blustery Court One.
"I had to retire. It was not possible for me to play. You never want to retire during the grand slam, one of the great matches when you are playing a good player. It's never good," Zvonareva told reporters.
Clijsters, 29, Wimbledon semi-finalist in 2003 and 2006 and currently ranked 47th in the world, will play German eighth seed Angelique Kerber for the first time in the last 16.
The Belgian, who has been nursing her way back from an abdominal strain, said she had yet to think about her big send- off at the U.S. Open but admitted Wimbledon looked a little different knowing it would be her last.
"There's definitely been moments where I think like, Oh, I'm going to take a good look around; I'm going to take these emotions in," Clijsters said.
"It's fun. It's nice to be looking at sports in this kind of way."
Photo: Roger Federer of Switzerland reacts during his men's singles tennis match against Julien Benneteau of France at the Wimbledon tennis championships in London (REUTERS/Dylan Martinez)