Morale remains high in the Arsenal camp despite back-to-back defeats that are threatening to derail the club's positive start to the season, manager Arsene Wenger said on Friday.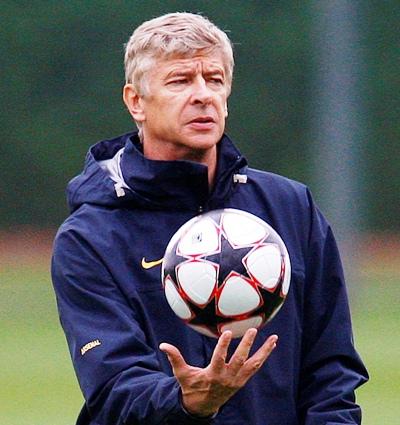 In previous campaigns, consecutive upsets could have spelled danger for an Arsenal side, whose swashbuckling style was often undermined by a soft underbelly.
A big test of this season's vintage is likely to come on Monday against Chelsea, when they have the opportunity to rebound from a 6-3 defeat at Manchester City last weekend which followed a Champions League loss to Napoli.
Another defeat would shunt them off the top of the table and set tongues wagging that the wheels are set to come off once again.
"They (recent results) have been disappointing for us," Wenger said on the club website (www.arsenal.com).
"But I don't think they have affected the morale.
"We have made good results until now because we have a good solidarity level and a good togetherness in the squad, and I don't see any sign of that dropping.
"I think even more that the players are focused to respond on Monday night. It can happen in a season when sometimes you have a bit of a weaker period. How you respond to this kind of problem is what matters."
Periods of inconsistency have effectively ended Arsenal's hopes of competing for silverware in recent years.
Last season they came unstuck between October and February, exiting every cup competition they were in and dropping too far off the pace in the Premier League.
Arsenal, who are two points clear at the top of the table, will be without midfielder Jack Wilshere against Chelsea.
He was banned by the Football Association for two games after being found guilty of making an offensive gesture to Manchester City fans.
Arsenal appealed on the grounds that the punishment was excessive.
"We thought the ban was one game and that's why we appealed," said Wenger, who will also be without Wilshere for their December 26 fixture against West Ham United.
"It is two, we have to accept it and to swallow it. He was wrong in his reaction, we just thought it was a one-game ban and that's why we appealed but we are now in a situation where we have to accept it and wait until he comes back, and focus on our next games without him."