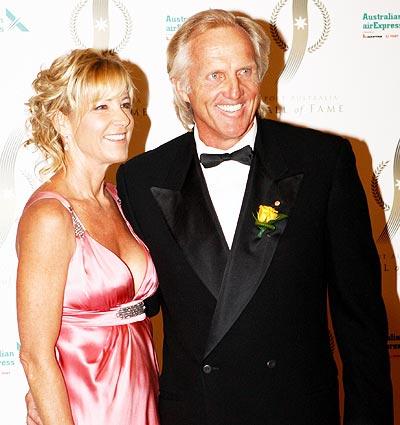 Ex-golfer Greg Norman and tennis legend Chris Evert were married on Saturday in a seaside ceremony held under a veil of tight security on Paradise Island in the Bahamas.
Officers from the Royal Bahamas Police Force and local security staff kept reporters, photographers and television crews from straying beyond checkpoints set up well around the perimeter of the One & Only Ocean Club resort where the celebrity couple tied the knot at sunset.
But People magazine said Evert and Norman, both 53, exchanged vows in front of 140 family and friends, including US television personality Matt Lauer and singer-songwriter Corey Hart.
Evert's youngest son Colton, 12, served as ring bearer, and sons Nicky, 14, and Alex, 16, walked her down the aisle. Also present were Norman's daughter Morgan, 23, and son Gregory Jr., 21, who served as best man, the magazine said.
Media reports have said the couple, who arrived in the Bahamas on Norman's private jet on Thursday, shelled out up to $2 million for their lavish weekend nuptials.
Evert, who won 18 Grand Slam singles titles, divorced former husband Andy Mill, a World Cup and Olympic skier from Colorado, last December after 18 years of marriage.
Norman reached a divorce settlement with his wife of 26 years, Laura Andrassy, in September. The Australian won the British Open in 1986 and 1993.