Liverpool captain Steven Gerrard says Sunday's defeat to Arsenal in the FA Cup will not halt his team's momentum as they head into the crucial final stretch of the season.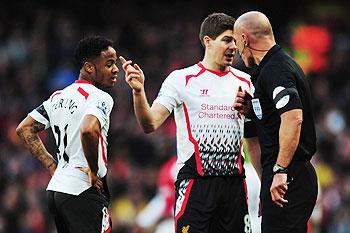 Goals to Alex Oxlade-Chamberlain and Lukas Podolski gave Arsenal a 2-0 advantage soon after halftime, before the German tripped Luis Suarez in the box after an hour, allowing Gerrard to pull a goal back from the spot.
Liverpool continued to press and thought they had another spot-kick when Oxlade-Chamberlain felled Suarez, but their appeals were waived away by referee Howard Webb.
The defeat was a disappointing end to a thrilling eight days for the Merseysiders, who turned in one of the performances of the season in beating the Gunners 5-1 at Anfield the previous weekend, before a last-gasp penalty to Gerrard gave them a late win over Fulham midweek, victories that lifted them to within four points of leaders Chelsea with 12 matches remaining.
Their form has them within sight of Champions League qualification for the first time since the 2009-10 season, and being talked about as outsiders for the title.
Gerrard said missing the chance to extend their Cup run would not derail their league ambitions.
"There is nothing to be down about. Sometimes you just don't get what you deserve from games and this was an example of that," the 33-year-old told the Liverpool Echo.
"We have to move on, dust ourselves off and go again against Swansea next Sunday.
"The way we're playing at the moment, we're a match for anyone. Going forward we look so dangerous and we are creating more than enough chances to win games.
"People are talking about us being a top side and rightly so. We need to bounce back quickly -- that's what top sides do after a setback.
"They don't feel sorry for themselves, they look to the future and focus on getting back to winning ways."
Manager Brendan Rodgers said after the match they were denied a "blatant penalty" after Oxlade-Chamberlain's tackle on Uruguayan Suarez, comments Gerrard supported.
"In my opinion it was a stonewall penalty," he said.
"It was even more blatant than the penalty which was awarded. The referee was very close to the incident. It's one you expect to get.
"Howard Webb is a top referee and I'm sure he will have a look at it himself.
"He obviously did not think it was a foul, but I am disappointed with the decision.
"It was a big decision that didn't go our way. That might have been the goal which would have given us a replay."
Image: Raheem Sterling (left) and Steven Gerrard (centre) of Liverpool talk with match referee Howard Webb during the FA Cup Fifth Round match against Arsenal in London on Sunday
Photograph: Shaun Botterill/Getty Images