Former champion Stanislas Wawrinka lived up to his top billing by cruising into the summit clash of the ATP Chennai Open here, where he will take on seventh seed Edouard Roger Vasselin of France.
Swiss top seed Stanislas Wawrinka was pushed to the wall by his fifth seed opponent Vasek Pospisil before the Canadian retired in the second set with scores at five all.
World No.8 Wawrinka had won the opening set 6-5 and was locked at 5-5 in the next when Pospisil conceded his semi-final match.
In the other semi-final, Vasselin staved off a stiff challenge from Spain's Marcel Granollers to book his maiden final appearance.
Vasselin clawed his way back into the match after losing the second set to emerge victorious against the sixth seeded Granollers 6-2, 4-6, 6-3 at the centre court of the Nungambakkam Tennis Stadium.
The Frenchman broke his opponent in the sixth game of the first set and then held on to his serve in the seventh.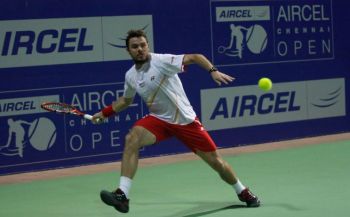 The second set was a different story as Granollers made a spirited comeback and improved his service accuracy and forehand strokes as the game went on, nearly doubling his efforts in the first set.
But the success was short-lived as Vasselin fought back in impressive style.
Granollers was unable to catch Vasselin, who went on to secure a 6-3 final set victory and a place in his first final in 2014.
At the post match briefing, Granollers said, "It was a tough match. I had a chance to win but lost it in the end. I was a little tired from yesterday as my match finished late. However, Vasselin played better than me. He was very aggressive from the start."
World No.52 Vasselin expressed his happiness on beginning the new season with a win.
"Yes, definitely I am happy. One more match to go," he said.
"It's absolutely difficult to play big matches. But I am happy today, the going has been good for me."
In the match between Wawrinka and Pospisil, the former committed a couple of double faults and did not seem his usual self but his 23-year-old opponent failed to take advantage of numerous chances on offer.
The second set was contested on equal terms with neither ready to give way an inch. However, back pain forced World No.32 Pospisil to retire midway in the 11th game.
"It was a tough match today. Pospisil is a great player and was playing very well. I hope he will recover well in time from his back injury for the Australian Open. I was focused to be aggressive today from the beginning of the match and I have had a good season last year. I know Vasselin well and he is a good player," Wawrinka said after the match.
Image: Stanislas Wawrinka
Photograph courtesy: Aircel Chennai Open on Twitter