Teen boxing sensation Vikas Krishan (69kg), who fetched India's lone medal at last month's World Championships, zoomed to a career-best second spot but Olympic hero Vijender Singh (75kg) did not find a place in the latest international rankings issued by AIBA.
Asian Games gold-medallist Vikas, who clinched a bronze at the Baku World Championships last month, has 1300 points in the latest rankings, making him the highest-placed Indian across all 10 weight categories of the International Boxing Association's (AIBA) latest list.
The top spot in Vikas' category has gone to Ukraine's Taras Shelestyuk, who beat the 19-year-old Indian in the semi-finals of the showpiece, which was also the first Olympic qualifying event.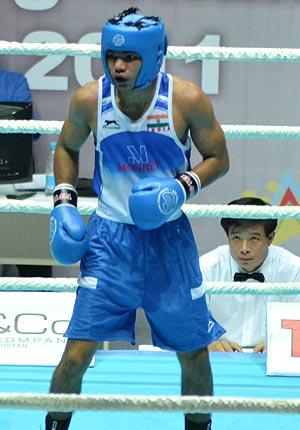 Four Indian boxers -- L Devendro Singh (49kg), Jai Bhagwan (60kg), Manoj Kumar (64kg) and Vikas -- made the Olympic cut by reaching the World Championships' quarter-finals and all of them have improved their rankings as well.
But former World No. 1 Vijender, who lost in the very first round of the mega-event, did not find a place in the list of ranked middleweight boxers due to the two-year rolling period criteria, under which points earned at the 2009 World Championships were removed from the current ranking.
Vijender was India's first medallist at the World Championships when he fetched a bronze in Milan, a feat that catapulted him to the top spot in the rankings at that time.
Meanwhile, the 19-year-old Devendro has entered the rankings at the 23rd spot with 450 points to his credit. But Asian Championship silver-medallist Amandeep Singh is the highest-placed Indian in this category at the 12th spot with 600 points.
In the 52kg division, Santosh Harijan, who won a bronze in the Asian Championships, is at the 39th spot with 300 points.
Former Youth Olympics silver-medallist Shiva Thapa is the top Indian in the 56kg division at the 16th spot with 600 points.
Jai, also a Commonwealth Games bronze-medallist, has zoomed from the 53rd to 17th spot with 500 points in the latest list.
Manoj, who was not even ranked earlier, has entered the elite list at the 32nd spot with 350 points.
In the middleweight category, which is synonymous with Vijender in India, multiple-time national champion Kuldeep Singh is the only Indian in the ranking chart at the 45th position with 200 points.
In the 81kg division, Dinesh Kumar has dropped massively from 12th to 56th with 150 points in the rankings.
Commonwealth Games gold-medallist Paramjeet Samota is the lone Indian representative in the super heavyweight division at the 33rd spot with 337.5 points. No Indian boxer features in the heavyweight 91kg category.