Punjab Police's attempt to "bring out the truth" behind the alleged use of heroin by Beijing Olympics boxing bronze medallist Vijender Singh was nipped in the bud after a local court dismissed its application seeking directions to procure his hair and fingernail samples for testing in the heroin haul case.
Refusing to accept the result of the test conducted by NADA, in which Vijender tested negative for heroin or any other prohibited substance, the police approached Fatehgarh Sahib court on April 3 and submitted an application seeking direction of the boxer to furnish samples before the Central Forensic Science Laboratory, Chandigarh.
Vijender opposed the police's application, following which the court dismissed it.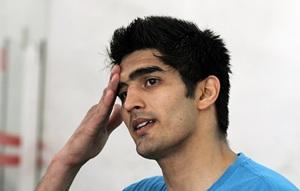 The court, in the judgment past recently, said this is not a fit case where directions should be issued to Vijender for giving hair and nail clippings for testing.
"After considering the entirety of the facts and circumstances, I am of the view that blood and urine tests have already been examined by NADA. No order can be passed merely on the asking of the investigation agency. As such, the application is dismissed," said Kuldip Singh, special judge, Fatehgarh Sahib, in his judgment.
Vijender, through his counsel, had told the court that due to the police's action, he is being defamed in the media and his boxing career is getting affected.
The police had invoked Section 27 of the Narcotics Drugs and Psychotropic Substances (NDPS) Act to justify the need for taking Vijender's hair and nail samples to determine heroin consumption.
But the judge raised doubts about the applicability of this section to Vijender's case.
"At this stage, the evidence against Vijender is the statement of some accused arrested in the case regarding consumption of heroin in the past (December 2012 and February 2013). And no narcotic drugs and psychotropic substances, even in small quantity, were recovered from him," said Kuldip Singh.
Vijender's name had cropped up after the Fatehgarh Sahib police seized heroin from NRI drug dealer Anoop Singh Kahlon's residence in Zirakpur on March 3.
During the interrogation, Kahlon had named Vijender and another boxer, Ram Singh, as his customers.
Punjab Police had claimed that Vijender experimented with heroin 12-14 times between December 2012 and February 2013, a charge repeatedly denied by the boxer.
Photograph: Reuters