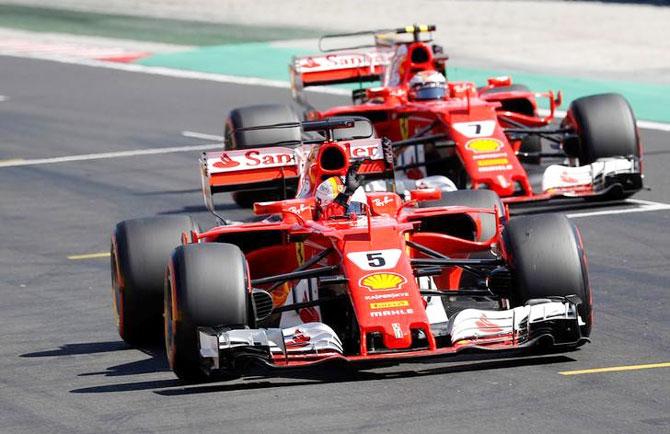 IMAGE: Ferrari's Sebastian Vettel (left) celebrates getting pole as he trailed by Kimi Raikkonen (right), who got second place during qualifying at the Hungarian Grand Prix in Budapest on Saturday. Photograph: Laszlo Balogh/Reuters
Ferrari's Formula One championship leader Sebastian Vettel took pole position at the Hungarian Grand Prix on Saturday and denied his Mercedes rival Lewis Hamilton a record-equalling career 68th.
The German's Finnish teammate Kimi Raikkonen sealed the Ferrari front-row lockout.
Hamilton, one point behind the German in the standings and a five-time winner in Hungary, will start from a disappointing fourth place on the grid and alongside his Finnish teammate Valtteri Bottas.
Hamilton had been hoping to match Michael Schumacher's all-time pole record and had set the fastest lap of the second phase of qualifying.