Triple Olympic and world champion Usain Bolt said on Monday that while he may try out the long jump it will not be in the near future.
"I did say that I wanted to do the long jump but that will not be anytime soon," Bolt told a news conference in Kingston after returning from the World Athletics final in Greece.
"I want to try the long jump before I retire, maybe five years from now. As for the 400 metres that is out," Bolt added to laughter.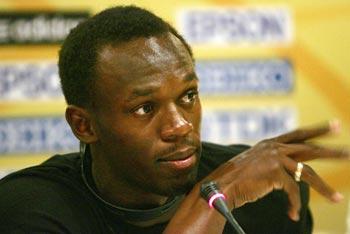 The 23-year-old was still undecided over whether or not to compete at next year's world indoor championship and Commonwealth Games.
"I have never competed at an indoor meet before and I have never competed at the Commonwealth Games, so I will see what my coach has in store for me and then decide," Bolt said.
Bolt shattered his own 100 and 200 metres world records at last month's world championships in Berlin, running 9.58 seconds in the 100 meters and 19.19 in the 200.
He also led Jamaica to the world 4x100 meters relay gold.
"It has been also a blessed season for me," said last year's Olympic sensation. "Thank God that I got through this season.
Bolt, who frequently talks about his diet and his comfort food cravings, said he was looking forward to some pork on this trip home.
"Since I landed here I told my helper (housekeeper) to make sure that she cooks some pork for me," he said. "I am anxious to enjoy some really good pork."