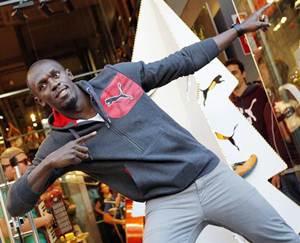 Olympic sprint champion Usain Bolt renewed his long-standing sponsorship deal with Puma until after the 2016 Games in Rio, the German sportswear company said on Tuesday.
Bolt has been with Puma for a decade and the renewal of the contract with the sport's most marketable figure is a fillip for a brand struggling to keep pace with larger rivals Adidas and Nike.
The agreement is likely to take Bolt, 27, through to the end of his career.
Bolt, who has won six gold medals at the last two Olympics, has said he could retire after Rio or following the World Championships in London in 2017.
"I have always been very happy to be a part of the Puma family, I am proud to represent them and delighted to continue with them for the years ahead," the Jamaican sprinter said.
New Puma CEO Bjorn Gulden, who took the job in July, had made the renewal one of his initial priorities after the company cut spending on other sponsorship deals.
Gulden called Bolt a perfect ambassador for Puma.
"He will play a crucial role in our future product concepts as well as brand communications leading towards the Olympic Games in Rio 2016 and beyond," Gulden said.
Financial details of the agreement were not disclosed.
Bolt was ranked 40th on the Forbes list of the world's best paid athletes, the highest ranking track and field competitor. He had estimated annual earnings of $24.2 million, the bulk of which came from endorsements.
Image: Jamaica's double Olympic champion sprinter Usain Bolt strikes a pose while inaugurating a Puma store in Barcelona November 23, 2012
Photograph: Albert Gea/Files/Reuters