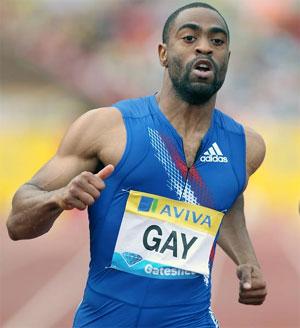 Former World double sprint champion Tyson Gay has been suspended for one year after testing positive in 2013 for a banned anabolic steroid, the US Anti-Doping Agency (USADA) said on Friday.
Gay has also returned the silver medal he won with the US 4x100 metres relay team at the 2012 London Olympics but will be eligible to return to competition as early as next month after admitting his offence and co-operating with investigators.
"We are thankful he decided to come in and be truthful in his cooperation with us," USADA chief executive Travis Tygart told Reuters.
"With the loss of results since 2012, including an Olympic medal, he has suffered serious consequences, but by cooperating he has tried to help the sport move forward for the good of clean athletes."
As part of the suspension he accepted, Gay, the joint-second fastest man in history, was disqualified from all competitive results since July 15, 2012, the date he first used a product that contained a prohibited steroid.
The start of his ban was backdated to June 23, 2013, the day his doping sample was collected at the USA Outdoor Track & Field Championships and when he voluntarily stopped competing after being notified of his positive test.
His first race back is planned for July, Reuters has learned.
The American 100 metres record holder had tearfully admitted last July he had failed an out-of-competition doping test, saying "I basically put my trust in someone and I was let down."
"I don't have a sabotage story. I don't have lies," Gay, who had previously spoken out against doping, said in a 2013 interview, adding he had never knowingly taken a performance-enhancing drug. "I made a mistake."
The 31-year-old could have been suspended for two years for his first doping offence but received a reduction because of his substantial assistance, USADA said.
The circumstances of his case is still under investigation and could produce additional suspensions, track and field sources said.
The ban is also subject to appeal by the International Association of Athletics Federation and the World Anti-Doping Agency.
The United States Olympic Committee (USOC) confirmed it had received the medal Gay won at the London Olympics and would be forwarding it to the International Olympic Committee (IOC).
Image: Tyson Gay