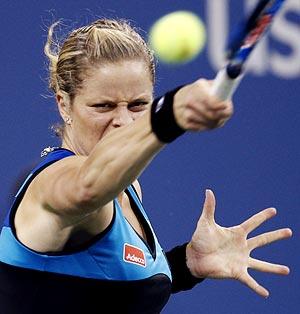 Andy Murray sent an ominous warning to Roger Federer and Rafael Nadal about his intentions to win the US Open when he cruised through his first match at Flushing Meadows on Wednesday after Victoria Azarenka sent a shiver through the tennis world when she fainted on court.
Kim Clijsters and Venus Williams, both two-time champions, also dazzled their opponents and the packed Arthur Ashe Stadium crowds but it was an early morning tumble on one of the outside courts that sent pulses racing at the year's last Grand Slam.
Azarenka, in a black dress and playing when temperatures were at their hottest, was rushed to hospital after collapsing in a heap at the baseline during her second round match against Argentina's Gisela Dulko.
The Belarussian had succumbed to scorching heat at last year's Australian Open and there were fears she had been a victim of the extreme temperatures that had forced US Open organisers to invoke their rarely used Extreme Weather Policy.
She later revealed that she had been diagnosed with a mild concussion and her frightening crumble was a delayed reaction to a fall suffered earlier in the gym while warming up.
"I was checked by the medical team before I went on court and they were courtside for monitoring," she said.
"I felt worse as the match went on, having a headache and feeling dizzy. I also started having trouble seeing and felt weak before I fell."
Murray showed why he is regarded as a serious contender to capture the men's title as he crushed Slovakia's Lukas Lacko 6-3, 6-2, 6-2.
The perennial hope of British tennis, Murray succeeded in escaping the worst of the roasting heat by racing to victory in under two hours.
"I managed to get through in straight sets so I'm pleased, but it was a lot tougher than the score suggests," the fourth-seeded Scotsman said.
"Everyone in my (supporters) box always tells me it's a lot tougher watching in the heat than playing but I'm not so sure. It was brutal conditions."
Although the weather was slightly cooler than the previous day, it was still hot enough to leave players drenched in sweat and calling for ice packs to drape around their necks at the change of ends.
BEAT THE HEAT
New York's hottest summer in decades has spilled on to the courts at Flushing Meadows and contributed to a high dropout rate among the seeds.
Another seven seeds made early exits on Day Three, giving the main contenders with extra incentive to kill of their opponents quickly.
Clijsters, who charmed the crowds last year with her infant daughter watching from the stands, showed no mercy in her match against Australian teenage qualifier Sally Peers, who grew up with a photo of the Belgian on her bedroom wall.
"I'm just trying every match to grow so I'm ready when the opponents get tougher," Clijsters said after thumping her inexperienced opponent 6-2, 6-1 in less than an hour.
Williams had no room for sentiment either as she romped to a comfortable 7-6, 6-3 victory over Canada's Rebecca Marino, who gave the third seed a brief scare in the opening set before succumbing to the American's power.
Williams is only playing singles this year after her sister and regular doubles partner Serena pulled out with an injury and said she was loving the lighter workload.
"So far I feel good. I made a quick turnaround this summer to try to get ready for the Open," she said.
"I'm glad that I'm just in the singles. That way I have the opportunity to recover between rounds and to get ready to play the next one."
Italy's French Open champion Francesca Schiavone and Australia's Samantha Stosur, the woman she beat in the Paris final, both advanced to the third round in straight sets while the most notable casualty was the men's Wimbledon finalist Tomas Berdych.
The Czech stumbled at the first hurdle, outclassed 7-6, 6-4, 6-4 by France's Michael Llodra, who is better known as a doubles specialist.
"I don't know whether I played well or not today," Berdych said. "I need to sit down with my coach who saw the match from the stands."