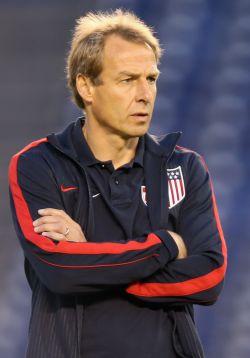 United States coach Jurgen Klinsmann has been suspended for the CONCACAF Gold Cup final for showing dissent on the sideline following his side's 3-1 semi-final victory over Honduras.
The suspension was announced on Friday by the CONCACAF disciplinary committee after it reviewed a report from the referee of the match on Wednesday.
Klinsmann, who had been unhappy with a series of what he perceived as non-calls and hard tackles against his team, was asked to leave the technical area after "showing dissent towards the referee by throwing the ball in a violent manner".
The U.S. will seek its fifth Gold Cup title when it faces Panama on July 28 in Chicago.
The decision can not be appealed, CONCACAF said.
Image: Jurgen Klinsmann
Photograph: Jeff Gross/Getty Images