Mike Tyson has revealed in his autobiography that he wanted to kill his ear-biting victim Evander Holyfield in the infamous 1997 fight.
In his Undisputed Truth: My Autobiography, Tyson narrated the entire incident when he was so enraged by Holyfield's constant head butting that he almost wanted to leave no chance in killing him.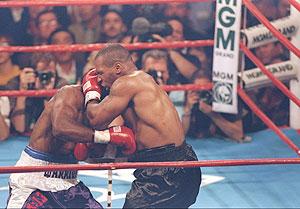 According to the Telegraph, Tyson reveals that his fight with Holyfield started good and he felt confident as his movements were fluid.
However, when Holyfield butted him continuously for what did not appear as accident but a strategy, Tyson lost his cool and bit him in the ear.
Tyson revealed that even after biting Holyfield, he again head butt him, to which Tyson again tried to bite his other ear that led to the referee disqualifying Tyson and calling off the fight.
The report said that in the 'street fight-like' boxing match, Tyson also got a cut over his eye three inches long, while Holyfield had been bitten.
Tyson further revealed that after that infamous incident that sealed his place in boxing infamy, people were annoyed and upset with him and claimed it to be 'fixed fight' and demanded him to move out of their neighbourhood.
Photograph: Jamie Squire/Allsport/Getty Images