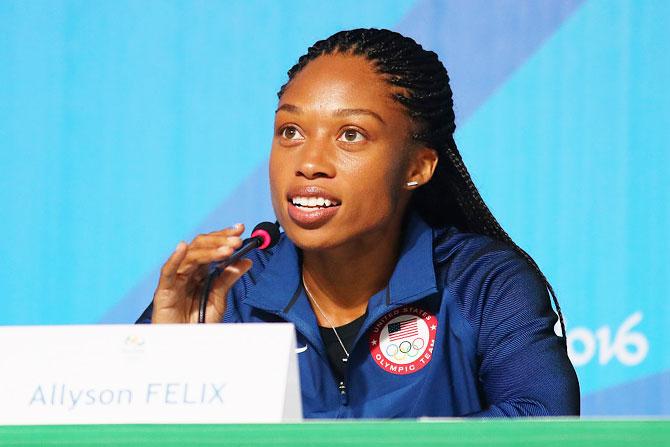 IMAGE: Track and field athlete Allyson Felix of the United States attends a press conference at the Main Press Centre in Barra Olympic Park in Rio de Janeiro on Wednesday Photograph: Tim Bradbury/Getty Images
The disappointment of missing out on an individual Olympic double has not left Allyson Felix, but the world 400 metres champion could still win three gold medals at the Rio Games.
America's most decorated sprinter said on Wednesday she was working with both US relay teams in addition to running the 400 metres at the Games.
The United States are favoured in both relays, as Felix is in the 400, giving the 30-year-old a chance to win her fifth, sixth and seventh Olympic golds.
But it still hurts, the Californian said, that she will miss out on a chance to defend her 200 metres title in Rio and go for the 200-400 double that only two women have ever accomplished in the same Olympic Games.
Injured for more than a month this spring, Felix missed by one-hundredth of a second gaining the third 200 metres spot at the cut-throat US trials after winning the 400 in what was then the year's best time.
"I feel a lot better than trials, so I think I am feeling close to normal," she told a US news conference on Wednesday.
There are still some moments, though, when she still feels the pain of an ankle sprain that kept her away from training on the track for more than a month.
"I have some issues with recovery but those are under control," she said "so I feel confident I can be close to my best."
Since missing out on the double, which the International Association of Athletics Federations had changed the schedule for to make the 200-400 bid more plausible, Felix has also had to adjust her mental preparations for Rio.
"Definitely I had to refocus," Felix said.
"I was disappointed with my 200 performance at trials, but I just had to put everything in perspective of what happened to me this year and just be grateful to even be on the Olympic team."
The Games will be the fourth for Felix, and she is hoping for triple gold, just as she did in London, when she won the 200 and ran on both winning relay teams, helping to set a world record in the 4x100 metres.
A definite for the 4x400m relay, she will not know until later in the Games whether she will be among the four sprinters for the US 4x100 team.