Belgian Tom Boonen surged ahead in the last hundred metres to win the 196-km sixth stage of the Tour de France, which was marred by a crash involving two thirds of the pack one kilometre before the finish in Angers.
Boonen outsprinted what was left of the peloton to score his first Tour win ahead of Australian Stuart O'Grady and Germany's Erik Zabel.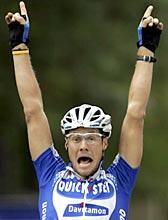 "I love hard sprints like this. They're for strong men. I'm strong and I love it," said the 22-year-old, who has won 14 races this season, including the Ghent-Wevelgem classic.
Most of the bunch were caught up a massive pile-up just under the red flame signalling the last kilometre.
Australian Robbie McEwen, the points classification leader, and Austrian Rene Haselbacher were the most seriously injured.
Five times Tour de France champion Lance Armstrong and current race leader Thomas Voeckler were held up by the crash but crossed the finish line unhurt.
"The crash happened literally 10 metres inside the kilometre otherwise we would have been docked half a minute," said Armstrong.
According to Tour rules, riders crashing in the last kilometre are awarded the same time as the winner and the incident should have no influence on the overall standings.
"I had a big fright as I was among the first riders to stop behind the crash," said Voeckler.
ARMSTRONG WARNED
The start in Bonneval had set the tone for a dramatic day.
After 13 km in the flat but windswept stage, Armstrong was held back by a massive pile-up involving some 30 riders.
The American was unhurt but was reminded that a Tour de France can be quickly lost.
"It's nothing serious. He actually fell on the tarmac. There is not much you can do when a crash takes place just in front of you," said his U.S. Postal team chief Johan Bruyneel.
"In the first week of the Tour, riders are very nervous and you must be especially careful."
Armstrong is currently sixth overall, nine minutes and 35 seconds behind Voeckler.
Yellow jersey holder Voeckler also crashed at the same spot.
"We both crashed early in the race and I'm afraid I rode on his foot. I hope he wasn't hurt," Voeckler said.
Italians Alessandro Petacchi and Mario Cipollini, considered the two most gifted sprinters in the world, both pulled out before the start through injury.
Petacchi was involved in a crash in Thursday's fifth stage and withdrew with a shoulder injury. Cipollini, the 2002 road world champion, flew back to Italy with a left leg infection and his season could be over.
Both had been in lacklustre form since the start of the Tour in Liege, leaving sprinting honours to other riders like Boonen or McEwen.
Four riders -- Spain's Juan Antonio Flecha, Dutchman Marc Lotz, France's Jimmy Engoulvent and Carlos Da Cruz -- had broken away after the first crash but were caught in the last five kilometres.