Hundreds of street protesters, denouncing the Winter Games in Turin, forced Olympic torch bearers to change route through the host city on Thursday on the eve of the opening ceremony.
Games organisers diverted the flame from the protest site after the demonstrators gathered on the planned route and police warned of possible harm to torch bearers or spectators.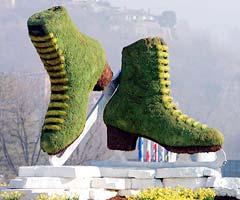 "We've succeeded today in making our voices heard," a protest organiser called Marco shouted through a loud speaker. "They've diverted the flame."
It was the fourth time protesters forced the torch, which symbolises peace, to switch route during its troubled, two-month trip across Italy, which is hosting the Games from February 10-26.
"These are dirty Games because they have spent huge amounts of money and we don't know what use it will be in the future," one demonstrator called Laura said.
Protesters also shouted opposition to the expected arrival in Turin of US first lady Laura Bush and used the occasion to denounce the construction of a high-speed train link between the city and France and an anti-drug law.
Prime Minister Silvio Berlusconi and the leader of the largest opposition party put aside their differences despite a general election campaign to condemn the protesters, saying they had embarrassed the nation before the world.
"GO HOME!"
But a protester called Federico said: "Turin is using this as a showcase to the world. Why shouldn't we use the same showcase to protest?"
As riot police with shields stood by, angry residents in the neighbourhood where the torch was supposed to pass shouted at demonstrators: "Go home!"
The flame later was carried by a runner through an adjacent street without incident, on its way to Friday's opening ceremony where a so-far unidentified Italian will use it to light the 57-metre (187-foot) high cauldron.
Italy has deployed 15,000 police and soldiers to protect athletes, dignitaries and spectators in the northwestern city of Turin and mountain sites on the French border.
Protesters have vowed to try to disrupt the visit of Laura Bush, who was in Rome on Thursday and was to arrive in Turin on Friday for the opening ceremony.
On Friday, a group of students stretched a banner across a university building in Turin reading, "Laura Bush, Go Home". Security officials quickly took it down.
But the US first lady appeared unfazed.
"There's something that's very exciting and hopeful about Olympics. It gives us a chance to be together, a lot of countries together, to make new friends and to renew old friendships," she said in Rome after meeting Pope Benedict.