Liverpool manager Kenny Dalglish told his Arsenal counterpart Arsene Wenger to "p*** off", as the rival bosses clashed after Dirk Kuyt's 102nd-minute spot-kick that left the Gunners six points behind leaders Manchester United with just six games to go.
Dalglish said: "I just told him that I still owe him dinner. There's no problem."
Arsenal thought they had won the game when they scored a 97th-minute penalty but were denied a vital win when Emmanuel Eboue was penalised by referee Andre Marriner for pushing over Lucas, The Sun reports.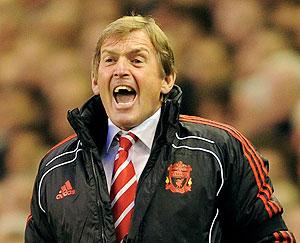 Wenger said: "All I said to Dalglish was it was not a penalty. You can check with TV to see what I said."
"We conceded a penalty after 11 minutes when the referee said there were eight minutes of injury time," he said.
"I don't see where those three extra minutes came from and it was no penalty. Eboue goes for the ball -- not the player. But Lucas stopped in his way in front of him," he said.
Dalglish, who shook hands with his Arsenal counterpart after the final whistle, added: "I don't want to repeat what was said. It would be very sad if that was allowed to overshadow what my players have achieved out there."