Following is a match by match look at the English Premier League's season-opening weekend fixtures:
Manchester United v West Ham United (Sunday, 2030 IST)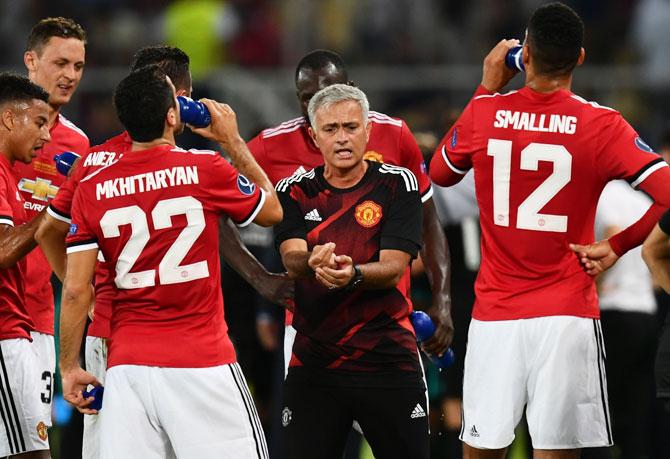 IMAGE: Manchester United's manager Jose Mourinho will hope that the new troika of Romelu Lukaku, Nemanja Matic and Victor Lindelof will give the club a fresh approach in the new season. Photograph: Dan Mullan/Getty Images
Manchester United begin their bid to be genuine Premier League title contenders on Sunday when they face West Ham United knowing that an improvement in home form is vital.
Since Alex Ferguson retired after the 2013 title win United have not finished in the top three but some serious investment in new players gives manager Jose Mourinho, starting his second season at the club, the sense that things are coming together.
"I'm so happy to be the manager of these guys, I told them a few days ago that during my long career I never had a group that I liked so much, like I like them," he said, after United's 2-1 loss to Real Madrid in the UEFA Super Cup in Skopje on Tuesday.
"I'm really happy to be with them and I'm going to fight with them all the way, so let's go on Sunday. Old Trafford is waiting for us and I think Old Trafford has a reason to be behind us," he said.
Those reasons for excitement include the arrival of striker Romelu Lukaku for 75 million pounds ($97.42 million) from Everton, Chelsea's Serbia midfielder Nemanja Matic (40 mln) and Sweden defender Victor Lindelof from Benfica (30 mln).
The trio give United a new spine to the team, though it remains to be seen if Lindelof, who has yet to get up to speed in pre-season, starts with Eric Bailly returning from a ban.
Home form let down United last season with their 10 home draws the highest in the league and the team had more wins away than at Old Trafford.
West Ham have also been active in the transfer market after flirting with the relegation zone last season and could feature Mexico international and ex-United striker Javier Hernandez in attack on Sunday.
Arsenal v Leicester City (Saturday, 0015 IST)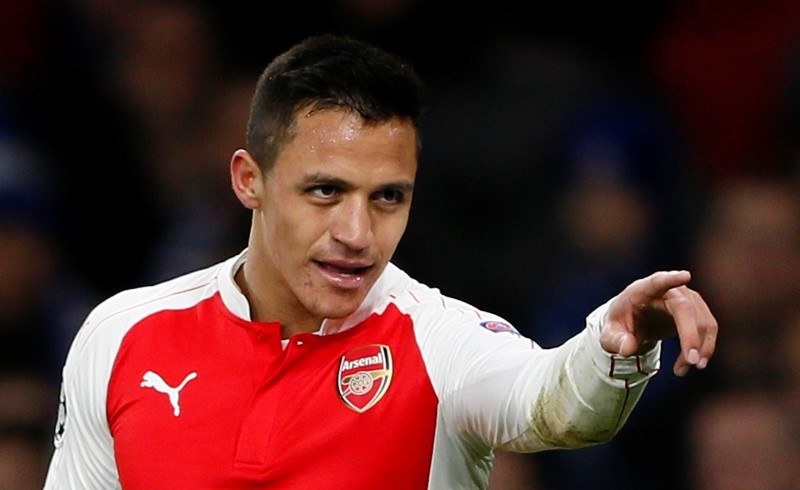 IMAGE: Arsenal have managed to keep Alexix Sanchez and the striker will be instrumental to the club's fortune this season too. Photograph: Stefan Wermuth/Reuters
Arsenal have kept hold of their Chile forward Alexis Sanchez but he will be missing for the opening match of the season on Friday against visitors Leicester City, whose key player Riyad Mahrez has also been the subject of transfer speculation.
Arsenal manager Arsene Wenger said the Chile international would miss Arsenal's home fixture against LeicesterCity on Friday as well as the trip to StokeCity on Aug. 19.
"He had a little abdominal strain that he caught on Sunday morning in training and he had a scan two days ago," Wenger told a news conference. "He is out for a while, could be two weeks but he will not be available for Stoke."
Sanchez, who was Arsenal's top scorer in the league with 24 goals last season, has been linked with a move to Paris St Germain in the French media, but Wenger has been adamant that he would stay at the Emirates Stadium.
When asked if Arsenal have received any bids from PSG for the 28-year-old, Wenger replied: "I cannot tell you that. We are not open to any offers anyway.
"(PSG) are looking for (Kylian) Mbappe, that's what I read in the papers. I have had no contact with PSG."
Wenger also dismissed media reports linking Alex Oxlade-Chamberlain with rivals Chelsea. The professor also confirmed goalkeeper David Ospina will stay at the club and fight for the number one shirt with Petr Cech this season.
Chelsea v Burnley (Saturday, 1930 IST)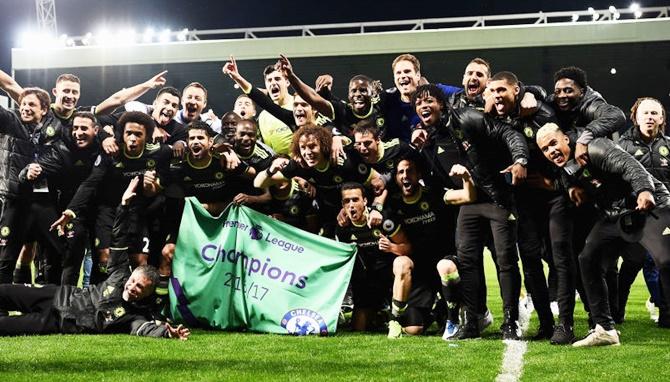 IMAGE: Manager Antonio Conte helped guide Chelsea to the EPL title in May. Photograph: Laurence Griffiths/Getty Images
Champions Chelsea could give a debut to Spain striker Alvaro Morata at home to Burnley.
Burnley are hoping to capitalise on early-season uncertainty as they bid to emerge from a visit to Stamford Bridge on Saturday with a surprise win over Premier League champions Chelsea, the Lancashire club's defender Ben Mee has said.
Last season, Burnley lost 3-0 at Chelsea and drew 1-1 at Turf Moor but Mee believes that results early in the last campaign, including home wins over Liverpool and Everton and a draw at Manchester United, are a cause for optimism.
"You might as well play them early, you might catch them by surprise, you never know," Mee told British media.
"It's a tough start but we've got some good games coming up in the first few matches and it's exciting. Our performances against the big teams were pretty good last year, barring Chelsea away.
"The rest of them were actually really good performances and we were unlucky not to get something from a couple of them, but it'll be a really good test for us early in the season."
Mee believes that Chelsea's new striker Alvaro Morata, could pose a threat to Burnley defenders but is confident that team will come up with and stick to a solid game plan.
Tottenham v Newcastle (Sunday, 1800 IST)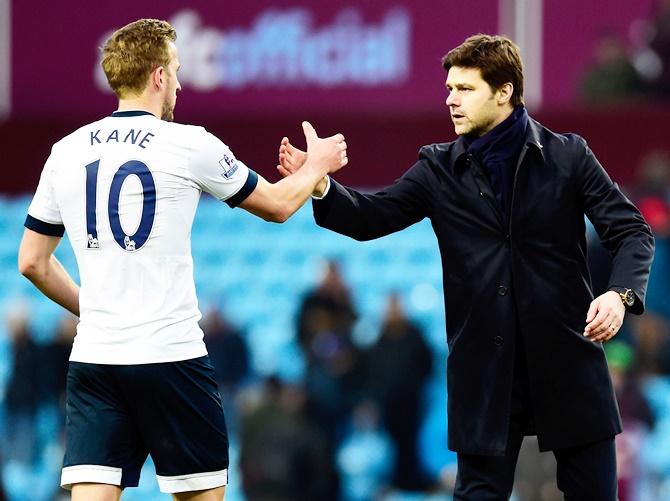 IMAGE: Mauricio Pochettino manager of Tottenham Hotspur and Harry Kane shake hands after victory. Photograph: Stu Forster/Getty Images
While last season's runners-up Tottenham Hotspur, who have yet to sign any players in the transfer window, visit promoted Newcastle United on Sunday.
Tottenham Hotspur manager Mauricio Pochettino believes that making Wembley feel like home this season is going to be as big a challenge for his team as winning the Premier League title.
Spurs were unbeatable at their now-demolished White Hart Lane stadium last season, dropping just four points at home.
But they have struggled at Wembley in recent years, with the larger pitch not suiting Pochettino's preferred high-pressing style while the distance of the 90,000 fans can result in a less intense atmosphere than at their old stomping ground.
"It's a big challenge for us," the Argentine told TalkSport on Wednesday.
"Maybe similar as to winning a title.
"Because to make Wembley home and to change the perception from the fans and feel in the end that Wembley can help us to be better and achieve our dream is a big, big job."
Tottenham have a woeful record at Wembley -- where they will play their home games this term while their new stadium is built on the site of their old one 12 miles away. They have won twice in 10 attempts since the national stadium reopened in 2007.
With one of the best squads in the country, featuring talented England players Harry Kane and Dele Alli, Pochettino's hopes of ending the club's wait for a first league title since 1961 rest on finding an antidote to the Wembley hoodoo.
Manchester City v Brighton (Saturday, 2200 IST)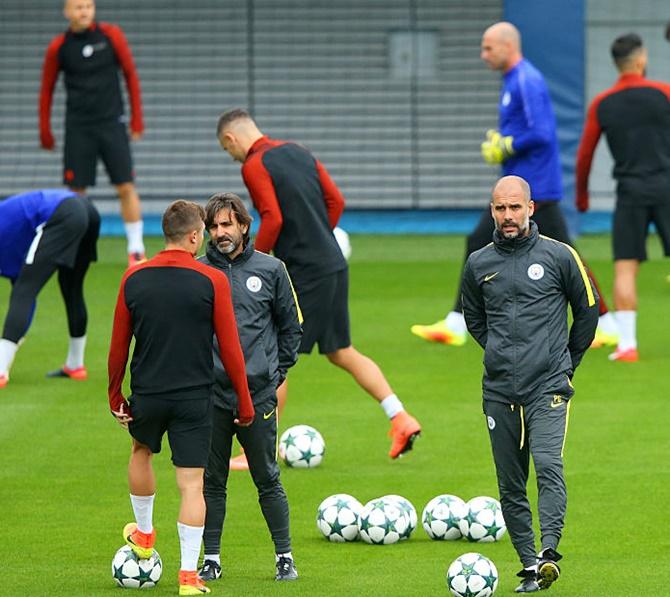 IMAGE: Pep Guardiola manager of Manchester City looks on during a training session. Photograph: Alex Livesey/Getty Images
Manchester City face Brighton in their season opener and they look stronger on paper. Brazilian Ederson is believed to be the answer to their goalkeeping troubles and Portugal's Bernardo Silva is a classy addition to the midfield.
The full back position has been another problem area and Kyle Walker, signed from Spurs, is a clear upgrade at right back and France international Benjamin Mendy from Monaco an improvement on the opposite flank.
With exciting Brazilian forward Gabriel Jesus now fit and ready, Guardiola has a second striking threat alongside Sergio Aguero to compliment the creative talents of Kevin De Bruyne, David Silva, Raheem Sterling and Leroy Sane.
Everton v StokeCity (Saturday, 1930 IST)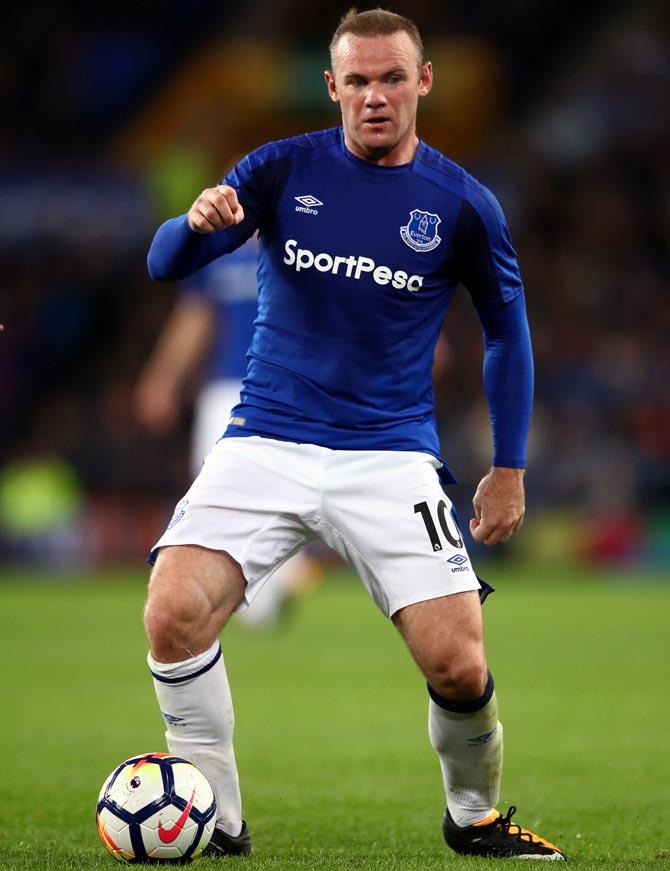 IMAGE: Wayne Rooney in action for Everton against MFK Ruzomberok in their Europa League match last month. Photograph: Clive Brunskill/Getty Images
Another former United forward, Wayne Rooney, will make his first Premier League start since rejoining boyhood club Everton when they host StokeCity at GoodisonPark on Saturday.
Everton's Merseyside rivals Liverpool have a tricky start to the campaign at Watford, who are under new manager Marco Silva after the Portuguese joined the London club having failed to keep HullCity in the top flight last season.