Manchester City striker Carlos Tevez completed a remarkable U-turn on Monday when he committed his future to the club a week after handing in a written transfer request.
City said in a statement on their website (www.mcfc.co.uk) that the Argentine international had withdrawn his demand in a move guaranteed to delight the club's fans.
The 26-year-old asked to leave, saying his relationship with certain officials at Eastlands had broken down and was "beyond repair".
But City said "clear the air" talks had been held with Tevez who had expressed his "absolute commitment" to the club. He was named as captain against Everton in his first match since last week's upheaval.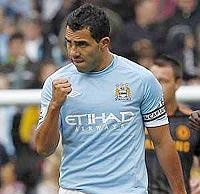 "Carlos is a world-class player whose contribution since he joined the club has been invaluable," City manager Roberto Mancini said in the statement.
"I am pleased that we are now able to focus on pure football matters and to be able to look forward to Carlos continuing to play a significant role in the club's progress."
ARCH-RIVALS
Tevez, who joined City from arch-rivals Manchester United 18 months ago, has netted 33 goals in 50 league appearances for the Blues and is their top scorer this season with 10 goals.
He still has three-and-a-half years left on his five-year contract, but has repeatedly hinted he is unhappy at the club, homesick for his young family in Argentina and disillusioned with soccer in general.
City's Arab owner, the billionaire Sheikh Mansour bin Zayed Al Nahyan of Abu Dhabi, has invested more than 800 million pounds ($1.24 billion) in new players in a bid to bring success and Tevez is an integral part of those plans.
He has not played since City beat Bolton Wanderers 1-0 on December 4 when he scored the only goal. He missed last week's 1-1 draw with Juventus in the Europa League, but has trained with the other players and was praised for his professionalism by City's football administrator Brian Marwood.