New signing Edin Dzeko made his debut but it was partner Carlos Tevez who scored twice in a nervy 4-3 home win over Wolverhampton Wanderers that took Manchester City top of the Premier League on Saturday.
Dzeko, a 27 million pounds ($42.77 million) signing from VfL Wolfsburg, made a promising debut and set up City's third goal for Yaya Toure.
It was Tevez who turned the match when he beat three defenders and finished calmly to put City 2-1 up early in the second half after Wolves had taken a surprise lead.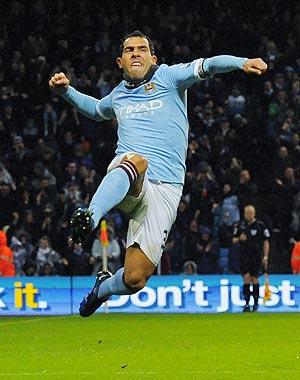 Tevez headed City's fourth but the hosts were hanging on desperately at the end after a Kevin Doyle penalty and a Ronald Zubar header made it 4-3 four minutes from time.
Chelsea struggled again but managed to beat Blackburn Rovers 2-0 at Stamford Bridge with second-half goals by Branislav Ivanovic and Nicolas Anelka.
City return to the top on 45 points from 23 games, a point ahead of Manchester United, who visit Tottenham Hotspur on Sunday and have three games in hand.
Arsenal, who visit West Ham United later on Saturday are third on 40, Chelsea fourth on 38 and Spurs fifth on 36.