Factbox on Andy Murray, who won his first Grand Slam singles title at the US Open on Monday with a 7-6, 7-5, 2-6, 3-6, 6-2 win over Serbia's Novak Djokovic.
-Murray beats Djokovic in epic US Open final
* Born: Glasgow, Scotland, May 15, 1987 (age 25)
* A survivor of the 1996 Dunblane School massacre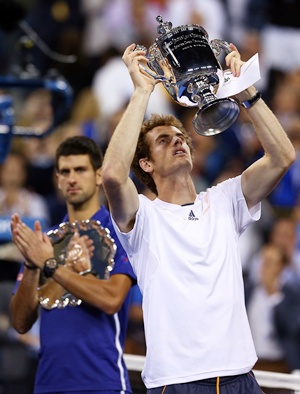 * A talented all-round sportsman, he turned down a promising career as a soccer player to focus on tennis, leaving his homeland at age 15 to train in Barcelona.
* Became the first British player since Greg Rusedski in 1997 to make a grand slam final when he played the 2008 championship decider in New York, losing to Roger Federer in straight sets.
* Made the Australian Open final in 2010, losing to Federer, again in straight sets.
* In 2011, he made the Australian Open final for the second straight year, but lost to Djokovic, also in straight sets.
* In 2012, he hired former World No. 1 Ivan Lendl as his coach.
* He became the first British man to reach the final at Wimbledon since Bunny Austin in 1938. He lost to Federer but won a set.
* A few weeks later, he avenged his loss to Federer when he won the gold medal at the London Olympics.
* In winning the US Open, he became the first British man to win a grand slam singles title since Fred Perry won the US Open in 1936.
* His epic five-set US Open match with Djokovic also equalled the longest final ever played at the tournament.
Photograph: Elsa/Getty Images