Rafael Nadal and his troublesome knees stand two matches away from enjoying a double celebration on Sunday after the Spaniard reached the singles and doubles finals at his comeback tournament in Vina del March.
Seven months on the sidelines because of injury do not appear to have diminished Nadal's hunger for success as he reached the singles final at the Chilean claycourt event with a 6-2, 6-2 drubbing of third-seeded Frenchman Jeremy Chardy.
The seven-times French Open champion will aim to win his 37th title on the slow surface when he takes on little-known Argentine Horacio Zeballos in the final.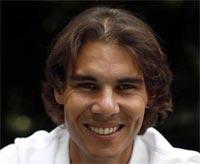 "I played well in the semis, better than the days before, which is important," said Nadal, who is playing his first event since losing to Czech Lukas Rosol in the second round at Wimbledon last June.
"I won't compare myself to seven months ago, it's just the first week of competition. It's a great feeling to be in a final match after so much time without playing.
"It will be a tough match against Horacio, who is playing great tennis. I hope to keep enjoying myself like I've been doing during this tournament and that my physical condition remains good."
The 26-year-old Nadal will get a chance to enjoy himself further when he joins forces with Argentine Juan Monaco in the doubles final against Italians Paolo Lorenzi and Potito Starace.
"I'm really happy with what I've been doing this week," said Nadal. "I have a good feeling on the court. So I cannot ask for anything more. I will try to play better and better every day."
Photograph: Paul Hanna/Reuters