Russia's Nikolay Davydenko hopes his dazzling displays to win the ATP World Tour Finals title will finally allow him to step out of the shadow of compatriot Marat Safin who retired this month.
The slender 28-year-old could probably walk around the streets of Moscow or London unnoticed, even with the $1.5 million cheque from Sunday's 6-3, 6-4 victory against Juan Martin del Potro burning a hole in his pocket.
Throughout his impressive career he has remained almost anonymous to all but serious tennis followers. He admitted that he hardly signed an autograph this week at London's O2 Arena, despite beating Rafael Nadal in the round-robin stage and stunning world number one Roger Federer en route to the final.
While Safin, the former world number one and US Open and Australian Open champion, was pure box office, Davydenko has rarely been on the radar, apart from when his name cropped up in a scandal over suspect betting patterns in 2007.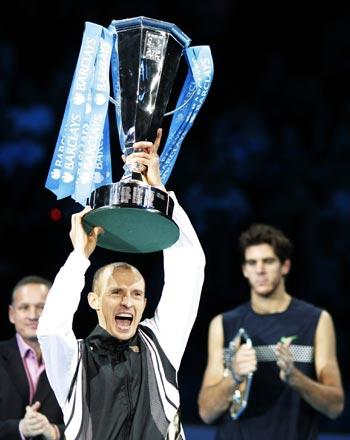 Although Davydenko was cleared of any wrongdoing it was an episode that hung over his career for a while.
"Everybody concentrates on Nadal and Federer," he told reporters after landing the biggest of his 19 career titles.
"Everybody's looking this way, not on me. Maybe now, after London, I'll be just a small part famous here in London.
"And I hope that I will become famous in Russia. For me it's really important. It was always disappointing when I played against Marat and it was 80 percent support for him.
"I hope now Marat is finished everybody supports me."
Davydenko, who enjoys sitting on a river bank with a fishing rod more than the glitzy lifestyle of a top sportsman, said he planned to spend some of his winnings in the Maldives next week when he will finally get a holiday.
He may even splash out on an apartment in Moscow.
"I will spend a lot of money in Maldives. But I'll still keep money because I want to buy an apartment still. I didn't buy an apartment in Moscow, it's so expensive.
"But this million gives me a chance to buy an apartment in Moscow."
Once Davydenko is through spending his money he said he will start planning for next year and finally trying to break into the grand slam winners' enclosure.
The Russian has reached two French Open semi-finals and two US Open semi-finals but has always fallen just short, albeit in an era containing some of the best players to play the game.
"If grand slams were best of three sets, yes I would win some," said Davydenko. "Winning in three sets is much easier.
"i don't know what I need to do for sure for the next season but I need to have very good physical preparation for the five-set matches in Australia."