Croatian Ivan Ljubicic captured his first ATP title in two years when he dismissed France's Michael Llodra 7-5, 6-3 in the final of the Lyon Grand Prix on Sunday.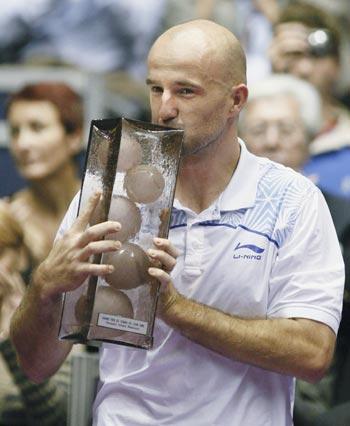 World number 29 Ljubicic, who was the only non-Frenchman in the quarter-finals, had won his last title at the Den Bosch Open in 2007.
Both players at first proved very strong on their serve, until Llodra collapsed in the 12th game.
Put under huge pressure by Ljubicic's service returns, Llodra volleyed long as the third seed seized his first opportunity to take the opening set.
A forehand return gave Llodra the early break in the second set, only for his opponent to win five games in a row, taking advantage of the Frenchman's weak second serve.
Ljubicic sealed a straightforward victory on his first match point with a service winner.
"I am very happy. The emotions are coming up now," Ljubicic said in a courtside interview.
"I have been struggling with injuries lately, so I will enjoy this title as much as I can. My wife is here, my family is around so I will celebrate but unfortunately, I have to run to Basel next week," he added.
Ljubicic, 30, said the title would make a perfect gift for his son's first birthday.
"It's a special place for me. I won my first title here in 2001 and here is my first title as a father," he said.
"It's his first birthday in four days and it's the best present I could offer to him."