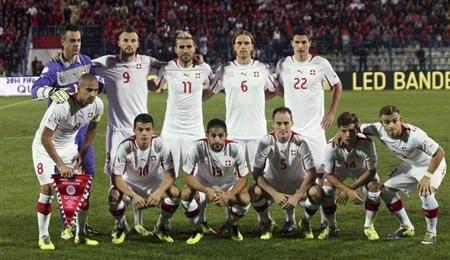 Switzerland will be among the eight seeded teams at the World Cup draw in December after they leapt to seventh in the latest FIFA rankings announced on Thursday, while Italy were edged out.
Spain, Argentina, Germany, Colombia, Belgium and hosts Brazil will also be seeded, as will Uruguay, if they beat Jordan in a two-leg play-off next month.
If Uruguay do not qualify, the Netherlands, joint eighth with Italy in the rankings, will take their place among the seeds.
FIFA previously ruled that Brazil plus the top seven ranked teams would be seeded for the draw.
Portugal, Greece, Croatia and Ukraine will be the seeded teams in next Monday's draw for the European zone play-off round, which also features France, Iceland, Sweden and Romania.
Image: Switzerland's team poses for the media before their 2014 World Cup qualifying football match against Albania at Qemal Stafa stadium in Tirana October 11, 2013.
Photograph: Arben Celi/Reuters