A summary of sports events and sports persons, who made news on Saturday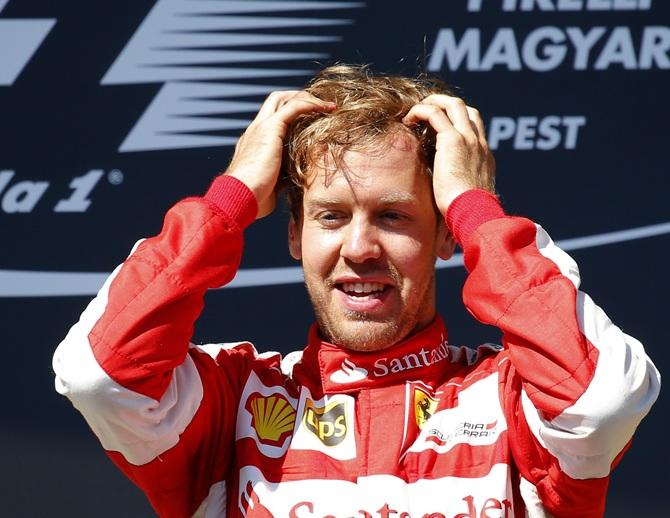 IMAGE: Ferrari's Formula One driver Sebastian Vettel. Photograph: Laszlo Balogh/Reuters
Four-times Formula One world champion Sebastian Vettel has extended his Ferrari contract for three more years to the end of 2020, the Italian team said in a statement on Saturday.
Vettel is 14 points clear of Mercedes rival Lewis Hamilton in the current championship ahead of Sunday's Belgian Grand Prix.
The German had been out of contract at the end of this season.
Finnish teammate Kimi Raikkonen has already agreed a contract extension for 2018, keeping Ferrari's line-up unchanged for next year.
World wrestling body approves new weight categories
The United World Wrestling has added 79kg and 92kg to the existing Olympic and non-Olympic freestyle weight categories while opting for major changes in almost all the greco-roman weight divisions.
On the sidelines of the World Championships in Paris, the sport's apex body has released what the 10 weight classes will be in each style moving forward.
The Olympic qualification system was also approved, with the World Championships getting six slots, Continental qualifiers (8) and a World Open (2) accounting for the 16 allotments. Continental championships will also be held.
Freestyle, which will keep all their current Olympic and non-Olympic weight categories and in which India have won four Olympic medals so far, include the following: 57kg 61kg 65kg 74kg 79kg 86kg 92kg 97kg 125kg.
Women's wrestling will increase the lowest weight from 48kg to 50kg and slightly redistribute several weight categories, most by only one or two kilograms. It includes the following: 50kg 53kg 55kg 57kg 59kg 62kg 65kg 68kg 72kg 76kg.
Greco-Roman went through the largest "shift in assignments", adjusting nearly all the weight categories (55kg 60kg 63kg 67kg 72kg 77kg 82kg 87kg 97kg 130kg).
The junior-level and U-23 wrestlers will also compete at the senior-level weight categories.
The two-day competition format was also approved in the meeting for the 2018 season and will commence on January 1, 2018.
A two-kilo allowance for the second day will be granted for one year. On January 1 next year the allowance will no longer be available.