A summary of sports events and sports persons, who made news on Sunday.
Paes teams up with Raja for Winston-Salem Open and US Open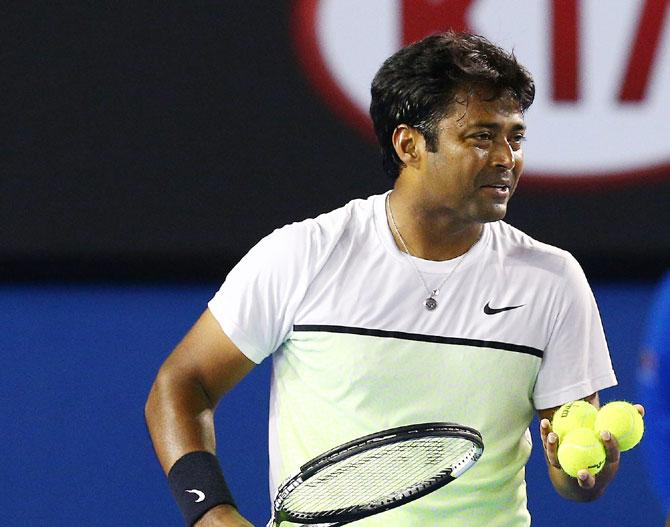 IMAGE: Leander Paes and Purav Raja have played together in the past in the Davis Cup tie. Photograph: Cameron Spencer/Getty Images
Leander Paes has teamed up with fellow Mumbaikar Purav Raja, who is only the seventh Indian to have paired with the veteran legend on the Pro circuit, for the Winston-Salem Open and the US Open.
Raja formed a very successful pairing with the left- handed Divij Sharan but since they failed to defend 250 points at Los Cabos, where they won the title last year, they lost 15 places each in the ranking list.
With their combined rank of 137 (Sharan 68 and Raja 69) they anticipated that as a team they would not have entered the US Open, where the cut last year was around 130, and they decided to split.
Paes, ranked 59, has paired with Raja and Sharan with Germany's Andre Begemann, who is placed 66.
The deadline to send entry was August 18. However as it turned out, a lot of singles players chose not to play the doubles and the cut did not come out as strong as expected. Eventually the cut was 155.
Sharan explained that split was the only sensible option under prevailing circumstances.
"Yes, we could have entered together but we would have known only last minute. If we could not get in together, then we would have struggled to find partner at the last minute because everyone would have fixed the team. Or maybe only one of us would have found a partner, so we had to take a call early," Sharan said.
Paes said he is looking forward to a good partnership with Raja.
"I have seen Purav grow all these years. He has really come up well and I believe we can pull off something big together," Paes said about Raja who will be the 119th partner for him overall.
Wild cards Paes and Raja will open their campaign against Paolo Lorenzi and Franko Skugor in their first match together on Pro circuit at the Winston-Salem Open, beginning on Monday.
They have played together in the past in the Davis Cup tie against Korea in 2013 in New Delhi when top singles players had boycotted the rubber due to a dispute with the AITA on playing conditions.
Among other Indians with whom Paes has played on the Pro circuit are Mahesh Bhupathi Gaurav Natekar, Nitten Kirrtane, Mustafa Ghouse, Rohan Bopanna and Ramkumar Ramanathan.
Harika shares spoils in fifth and sixth round
Indian Grandmaster Harika Dronavalli played out two draws against compatriot Eesha Karavade and Spain's Antonio Pazos Porta in the fifth and sixth rounds respectively of the Abu Dhabi International Chess Festival in Abu Dhabi.
The World No 9 Indian, playing with white pieces for her first game of the day, got off to a flying start against Eesha. But she could not capitalise on the advantage as Eesha blocked all possibilities to make inroads and lead the game towards neutral territory.
"I didn't see much happening in the first game and offered a draw, which she gladly accepted," Harika said after her first-round game.
The draw in the fifth round put Harika up against FM Pazos Porta of Spain. She had to be at her defensive best to contain the attack from her Spanish opponent.
However, it was the Spanish who offered to share the spoils after just 20 moves and Harika accepted.
"The position was dead equal and my opponent couldn't break my defensive strategy, so he offered a draw," the Hyderabadi said after her second game of the day.
After six rounds in the nine-round Swiss tournament, Harika has registered two wins, three draws and just one loss.
She will take on CM Suleymanli Aydin of Azerbaijan for her seventh-round clash and will look to bounce back from the three consecutive draws.
Vikas let off with warning for Asian Championships forfeiture
World Championships-bound Indian boxer Vikas Krishan has been let off with a warning for forfeiting his Asian Championships semi-final bout earlier this year, marking an end to the disciplinary inquiry against him.
The middleweight (75kg) boxer, who was the top seed in the Asian meet in Tashkent, had given a walkover to Korean Lee Dongyun in the semifinal during the April 30 to May 7 event.
The 25-year-old, a former World Championships bronze-medallist, is currently in Hamburg, Germany with the eight-member Indian team which will compete in the upcoming edition of the mega-event, starting August 25.
"He has been given a warning for what happened and the matter is now closed. The disciplinary panel spoke to him and we came to the conclusion that a warning would suffice," a top Boxing Federation of India (BFI) said on condition of anonymity.
The boxer, who had a World Series of Boxing (WSB) bout on May 11 in Paris, had claimed that he got caught up in a confusion over his travel plans, which led to him forfeiting the Asian Championship bout.
Subsequently, the BFI denied him permission to compete in the WSB bout as well.
The BFI then constituted a three-member disciplinary committee to conduct an inquiry into the matter.