The clamour may have been for Sachin Tendulkar, but the Sports Ministry has recommended hockey legend Major Dhyan Chand for the Bharat Ratna, India's highest civillian honour.
"The letter recommending Bharat Ratna for Dhyan Chand has already been sent to the Prime Minister," Sports secretary P K Deb said.
"The Ministry has only recommended Dhyan Chand's name for the highest honour," he added.
Before for the hockey wizard can be conferred the award posthumously, the recommendation, sent to Prime Minister Manmohan Singh, will be studied before it goes for approval to President Pranab Mukherjee.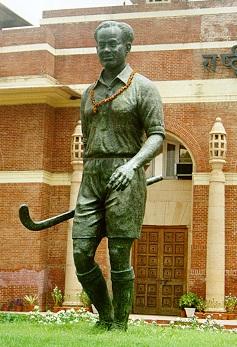 A six-member delegation, led by Dhyan Chand's son Ashok Kumar, met Sports Minister Jitendra Singh on July 12. The delegation also included former India cricket captain Bishan Singh Bedi and Dhyan Chand's grandson Gaurav Singh.
"Irrespective of whether the award is given or not, it is an honour for our family that his name has been recommended by the Sports Minister for Bharat Ratna," Ashok Kumar said.
"The minister assured us that he would try his best to get Dhyan Chand's name considered for the honour. Since no other name has been recommended, so there is no conflict. We are hopeful he will get Bharat Ratna this year posthumously," he added.
Ashok also praised Bedi for pressing hard for Dhyan Chand's name during their meeting with Jitendra Singh.
Dhyan Chand won three gold medals at the Olympics – 1928 in Amsterdam, 1932 in Los Angeles and 1936 in Berlin. He passed away in 1979.
The government, in 2011, ignored a plea of 82 Members of Parliament, who recommended Dhyan Chand's name for the Bharat Ratna, but in January 2012, the Ministry itself forwarded his name along with that of Olympic gold medallist shooter Abhinav Bindra and mountaineer Tenzing Norgay for the award.
However, Tendulkar was not considered as the Board of Control for Cricket in India had not recommended him.
Image: A statute of hockey wizard Dhyan Chand outside the National stadium in Delhi.