Former world number one Annika Sorenstam plans to sign off from the women's tour in style at the Dubai Ladies Masters starting on Thursday after spending time at a yoga retreat on her first visit to India.
The 38-year-old Swede, who has won 72 LPGA tournaments including 10 majors, will retire after the Masters to get married, start a family and pursue her business interests.
"I had a really weird preparation for this week and I will have to rely on memories from the previous years and the knowledge of the course to play some good golf," Sorenstam told reporters.
"I played in Singapore and then went to India for the first time to do some yoga, some chanting and just eat right. I didn't touch a golf club and then I caught flu. The bombings in Mumbai didn't help and we thought about cancelling the trip, but I am glad I didn't.
"It was an extremely fun trip and I hope I can do it again."
Sorenstam said her parents and sister would watch her play in her final tournament this week.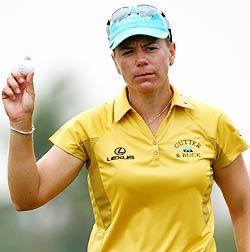 "Hopefully, I can play some good golf and leave, again, with some great memories," she said.
"It's an exciting time and I am excited about starting a new chapter in my life. We have about 150 people coming over for the wedding which will be held at Orlando, close to my home. Tiger [Woods] has received an invite, so we will see [if he is coming over]," said Sorenstam, adding she had no urge to play competitively again.
MEMORABLE MOMENT
"It's 15 years, and it's time to say goodbye. When I look back on my career, I couldn't have asked for anything more. I'm just going to go with the flow and see how I feel. But I don't have the urge to play yet," she said.
"I can't think of a better time to step away from the game, because it's in good shape. We have so many great players. Just take the LPGA for example, we have Lorena Ochoa who is number one, Paula Creamer is playing fantastically and Yani Tseng is awesome. It's up to them to carry it on."
"For me, the goal now is channel my energy and competitiveness into the business world. It's not going to be easy with the businesses I have going. Then there is the academy and the foundation and we also into building golf courses. Being a female in that world and that industry is not easy.
"I am closing a chapter here, but I am opening another one that I need all of the experience that I have gotten in the last years."
Sorenstam said her most notable memory was playing with men in the 2003 Bank of America Colonial golf tournament in Fort Worth. She was the first woman to play in a men's tournament since Babe Zaharias in 1945.
"If I had to pick up one thing that defines me, I would say it's playing with the men in 2003. That experience changed me in so many ways," she said.
"I'm only 38. If there is something I missed in life, I am going to make sure that it's done by the time I'm finished.
"At the moment, however, it's time to say goodbye."