Fourteen-year old Michael White from Neath in West Wales wrote a new chapter in snooker's record books by becoming the youngest ever finalist in a major international championship.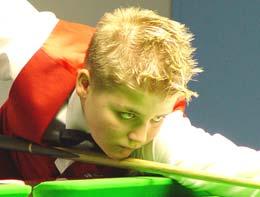 Drawing gasps of admiration from the enthralled international audience, White overcame the vastly more experienced Alok Kumar from India 8-5 in the semi-finals of the 2006 IBSF World Grand Prix.
Kumar had beaten Gavin Pentall of Wales 6-1 in the quarter-finals earlier in the day.
Kumar, a former Asian snooker champion, won a 25 minute first frame, in which he served notice to White that he could expect tactical and safety play of the very highest order.
But the teenager was unfazed, as he calmly opened a 3-1 interval lead, chipping in with breaks of 45 and 40.
Kumar cleared with 42 to take the fifth, after the Neath lad had opened with 47, but White took the next two and held a comfortable 5-2 lead at the end of the first session.
On the resumption Kumar, who won his first Indian snooker championship in 1992, when White was just one year old, stepped up the pace. He stroked in a 65 clearance and opened the tenth frame with a run of 54. White's recovery was thwarted when he missed a pink and left the last red on.
Welsh nerves were visibly jangling in the audience when Kumar whistled through frame eleven to trail only 6-5 at the last interval.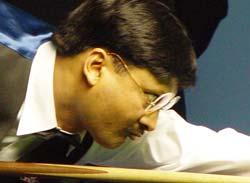 But the break came at the right time for White, who steadied himself to win frame 12 and then dominated the next to clinch his place in the final.
He will face Scotland's Mark Boyle, who beat Germany's Lasse Munstermann 8-5 in the other semi-final.
White seemed oblivious to the excitement around him and claimed "I didn't feel any real pressure. I just try to take my time on the shot and push the cue through straight."
But the teenager did admit to fatigue, saying, "I do feel tired now, it was a long hard match, but I'll be up and ready in the morning and I'm really looking forward to the final.
"I don't mind who I play, I've never played either Mark or Lasse before."
Twenty-five year old Mark Boyle came through a gruelling match against Germany's former Main Tour professional Lasse Munstermann, winning 8-5 as the clock approached midnight.
Munstermann started in style with a run of 79, to which Boyle responded with 54. Further efforts of 41 and 68 gave Boyle a 3-2 lead, but there was never more than a frame between them until from 5-5 Boyle surged away with a three frame burst to claim his place in the final.
Semi-final results:
Michael White (Wales) bt Alok Kumar (India) 8-5 [20-73, 67(45)-24, 83(40)-47(40), 62-21, 53(47)-71(42), 62-46, 67(47)-24, 57-43, 16-86(65c), 21-56(54), 10-64, 63-32, 60-13].
Mark Boyle (Scotland) bt Germany's Lasse Munstermann 8-5 [45-87(79), 94(54)-20, 52-72, 64(41)-6, 68(68)-1, 24-62, 78-17, 42-70, 62-61(46), 19-77, 61-29, 66-39, 60-54].
Photographs, match info: Janie E. Watkins, EASB - Director of Media.
http://www.globalsnookercentre.co.uk