Former England captain Alan Shearer has played his last professional game for Newcastle United after announcing he will miss the rest of the season.
"I'm finished now and I have great memories. The fact I won't be able to play the last three games is disappointing but I'm not complaining. How could I?" he was quoted as saying in Saturday's Sun newspaper.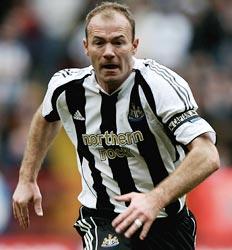 The 35-year-old centre forward was due to retire at the end of the season but a scan on Friday revealed that he tore his medial knee ligament in Monday's 4-1 Premier League win over Sunderland.
"There's a tear in the medial ligament which, although it does not require an operation, means I will be in a knee brace for a few weeks. It's disappointing but I've had a great career.
"Some people think it was a fantastic way to go out anyway by scoring in our 4-1 win at Sunderland last week. I think they might be right.
"I had focussed on going all the way to the last game of the season against Chelsea and then my testimonial," he said. "But we don't live in an ideal world.
"Hopefully, I'll be able to kick off the testimonial but there's lots of people worse off than me."
Shearer is hoping his testimonial against Celtic at St James's Park on May 11 will raise more than one million pounds, all of which will be donated to charity.
His career began at Southampton where he became the youngest player to grab a top flight hat-trick and in February 1992 he scored on his England debut in a 2-0 win over France.
The top clubs came calling but he joined Blackburn Rovers, being bankrolled by Jack Walker, for a then-British record fee of 3.6 million pounds.
Shearer was voted English Footballer of the Year after notching 34 goals in 1993-94 and the following season won his only major trophy, the Premier League title.
HERO'S WELCOME
After netting 130 goals in 171 games for the Ewood Park club he joined his hometown team for a then-world record fee of 15 million pounds after being top scorer at Euro 96 with five goals and got a hero's welcome from the Toon Army.
He helped Newcastle reach the FA Cup finals of 1998 and 1999 but they lost both matches 2-0 after being outclassed by a skilful Arsenal side heading for the double and a brilliant Manchester United team on their way to a historic treble.
Shearer says he has no regrets about turning down Manchester United to join a Newcastle team still waiting for their first major trophy since winning the FA Cup in 1955.
"It doesn't matter that I didn't win a trophy because I did it my way and I lived the dream," Shearer told the Sun.
"Unless you come from the area you wouldn't understand that mentality. Playing for the club is everything."
Shearer announced his international retirement after Euro 2000, finishing his England career with 63 caps and 30 goals.
He was due to hang up his boots at the end of last season but was persuaded by Graeme Souness to play on for another year.
In doing so he eclipsed Jackie Milburn's Newcastle record by scoring his 201st goal against Portsmouth in February.
"I'm pleased I made the decision to carry on for another season," he said. "I ended up playing a lot more games than I thought I would and it's been tough on the body at times but it doesn't matter -- I've got plenty of time to have a rest now."
On announcing his testimonial last February Shearer said: "I have lived my boyhood dream, I have played in front of the most loyal fans in the world, captained my country, played for the home team I supported as a boy.
"I've also broken the goal-scoring record of an absolute Tyneside legend and now I have the opportunity to say farewell to the fans who have supported me so well throughout my career."
On Saturday he added: "I've never had any regrets."