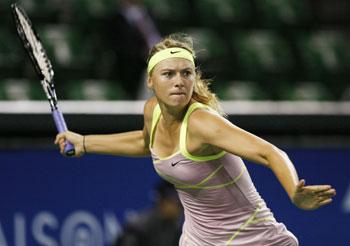 Former world No 1 Maria Sharapova won her second Pan Pacific Open title after Jelena Jankovic retired with a wrist injury in Saturday's final.
It was Sharapova's first title since shoulder surgery last October and the 20th of her career. Her last tournament win came at Amelia Island in April 2008.
The Russian was leading 5-2 when seventh seed Jankovic complained of shooting pains down her right arm and called for the trainer to tape up her wrist at the changeover.
The Serb managed just two more points after a medical timeout before throwing in the towel.
"These things happen but I'll certainly take it," Sharapova told reporters after the abbreviated final, her second of the year after a runner-up finish in Toronto in August.
"It's great to have that adrenaline again," added the three-times grand slam winner, set to break into the world's top 20 after coming into the $2 million Tokyo event ranked 25th.
"It's funny to win trophies again after thinking I might never be able to hit a tennis ball again. But I'm back and I'm hungry. I can be better than before and win more grand slams."
Sharapova, who has now beaten the 2008 year-end number one Jankovic in five of their six meetings, also won the Pan Pacific Open crown in 2005.
TOKYO CHARM
Four of her 20 WTA Tour titles, including her breakthrough victory at the 2003 Japan Open, have come in Tokyo.
"It's a special place for me," said Sharapova, who had recovered from 2-0 down to rattle off five straight games before Jankovic's retirement.
"I'm proud of how I stepped it up," continued the 22-year-old, a third-round loser at last month's U.S. Open.
"After an early loss in a grand slam I didn't just put my head down and go on vacation."
Jankovic admitted her participation in next week's China Open may be in doubt.
"I had real pain in the shoulder going down to my wrist," said the world number eight. "The wrist is swollen and the whole arm is inflamed.
"I'll see if I can play in Beijing after I get treatment. I wanted to finish but I couldn't even hold the racquet. I had to stop or risk maybe not being able to finish the year."