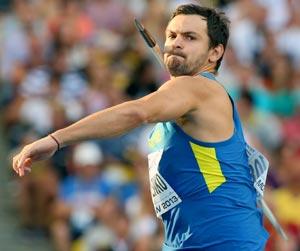 Seven athletes failed drugs tests at last month's Moscow world championships, the International Association of Athletics Federations (IAAF) announced on Friday.

Ukraine's Roman Avramenko, fifth in the men's javelin, was the only finalist to test positive.

The seven, who were named on the IAAF website (www.iaaf.org), have been sanctioned or provisionally suspended, the sport's governing body said.

Urine tests were taken from 538 athletes during competition and 132 in the runup to the championships.

"All urine samples collected in Moscow will shortly be transferred to long-term storage facilities provided by the Lausanne laboratory for eventual re-analyses at a later stage," an IAAF statement said.

As part of the Athlete Biological Passport programme, 1,919 blood samples were also collected in Moscow. The programme tracks athletes' blood data over time to detect any abnormalities.
Image: Roman Avramenko
Photograph: Julian Finney/Getty Images