Veteran cueist Geet Sethi survived a scare against Malta's Simon Zammit, while Pankaj Advani had a field day against Moosa Saleem of Mauritius on the second day of the ONGC-World Snooker Championship in Hyderabad on Monday.
Sethi, who committed number of unforced errors during the game, brought in all his experience on the table to edge past Zammit 3-2 in the decider.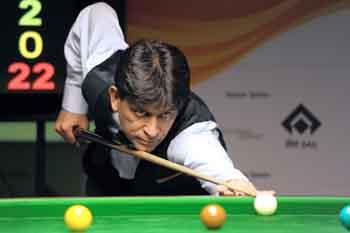 Sethi started the match nervously and lost first frame to Zammit in no big time. He regained his confidence in the second and struck the balls with sheer excellence to compile a nice break of 69 to level the proceeding.
The third frame was quite scrappy as both the players kept on committing unforced errors. However, at the end Sethi held on to his nerves to surge ahead by 2-1.
In the fourth frame, Zammit showed some gutsy potting and piled up a substantial lead over his opponent, leaving him with no chance to make a comeback.
The decider saw Sethi taking a substantial lead and as he was about to close the proceedings with two reds on the table, a missed regulation red pot by him in an attempt to position for the pink ball allowed Zammit to bounce back into the game.
Zammit cleverly took the two remaining reds with colours and made the game open in the colour balls. Sethi needing only one colour ball made a number of mistakes, but eventually lady luck smiled on him as an attempted blue at the centre pocket hit the jaw and rolled down along the cushion to the bottom pocket, which sealed the match in his favour.
Reigning world champion and Asian games bronze medallist Advani with his mellifluous cueing and gossamer touch enthralled the crowd at the Hyderabad International Convention Centre and completely outclassed his Mauritian opponent.
Advani ended the title hopes of Saleem 4-0 (84-00, 85(54)-22, 75(58)-21, 78(62)-39 in the men's section. 
Two times Asian Snooker Champion Yasin Merchant blazed the green baize with breaks of 82, 89 and 71 in the first, fifth and sixth frame respectively to win a hard fought battle against Mario Fernandez of Ireland after being down by 1-3.
Photograph: Mohammed Abdul Haq