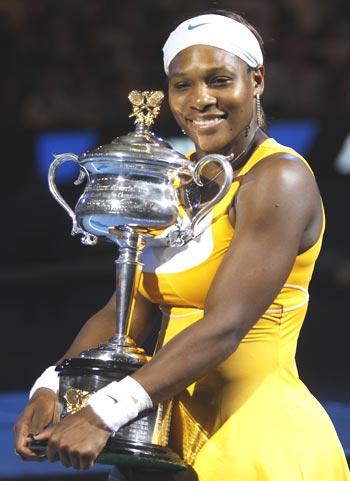 Serena Williams defeated Belgium's Justine Henin 6-4, 3-6, 6-2 on Saturday to win the Australian Open for the fifth time after a match of unrelenting tension between the two best players of their generation.
The American regained her composure after Henin sent the match into a deciding third set, wrapping up victory after two hours and seven minutes and retain the title she won last year.
Both players suffered from nerves at the start then battled exhaustion at the end but still managed to provide the packed Melbourne Park centre court crowd with some exquisite shotmaking and intense drama in their first grand slam final meeting.
Williams, wearing a citrus-coloured outfit, thumped down 12 aces and 32 winners while Henin provided a reminder of the form that saw her win seven grand slam titles, including the 2004 Australian Open, with 28 winners of her own.
Despite the loss, it was still a triumph of sorts for Henin, who only returned to the professional circuit this month after quitting the game in May 2008.
The 27-year-old needed an invitation to get into the tournament because she does not have an official ranking yet but rode a wave of emotion to become only the second wildcard to make a grand slam final.
Henin's compatriot Kim Clijsters won last year's US Open after making her own comeback.
Wearing an aqua-blue shirt and traditional white skirt, Henin looked in danger of being overpowered by the current world number one when Williams won the opening set in 51 minutes.
However, the Belgian reeled off four games in a row to snatch the second set as the American started showing signs of fatigue.
Williams had also played in the women's doubles, which she won with her sister Venus, and was wearing heavy bandages on both her legs but just when it seemed she was fading, she found a way to weather the storm.
She won the last four games on the trot then sealed her win with a backhand deep into the court that Henin was unable to retrieve.
The win gave Williams her 12th grand slam singles title and saw her join American Billie Jean King, who was watching from the Rod Laver Arena stands, in equal sixth place on the list of female grand slam singles champions.