Peter Senior drew on all his experience from 34 years as a professional golfer to master galeforce winds and win the Australian Open by a shot on Sunday, 23 years after he first held aloft the Stonehaven Cup.
Gusting winds of up to 80 kilometres an hour whipped across The Lakes Golf Club all day, knocking over a TV tower on the 18th green and forcing the suspension of play for three hours.
The 53-year-old ground out a final round of par 72 in fading light to finish four-under for the tournament and become the oldest man to win the title in the event's 108-year history.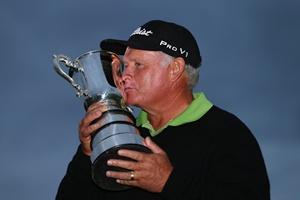 Brendan Jones finished second after a 71, while his fellow Australian Cameron Percy was third, a shot further back on two under, after carding a 73.
Britain's world number four Justin Rose dropped a shot at the last to finish with a 76 for a share of fourth.
"It was probably one of the toughest days I've ever seen on a golf course," Senior, who first won the title in 1989 and won the last of his four European Tour titles two decades ago.
"I really thought these days were over but golf is a funny game. The key to today's round was that I never put any pressure on myself.
"If the conditions had been better, the better players would have won. But these are conditions I thrive in, where I just battle it out."
On a day when the conditions meant only six players would finish under par, Senior started three shots off the pace and dropped two shots on the front nine.
The Singapore-born Australian won them back, however, with two birdies in three shots after the turn, curling a 20-foot putt into the hole at the 12th to move two shots clear of the field.
It was a lead he would never relinquish and, with his son and caddie Mitch watching on, he drained a three-foot putt at the 18th before waiting for the final group of Rose and John Senden to finish.
Rose had started the day in second, two shots off the pace, but three-putted at the third for the first of two dropped shots on the front nine.
The Englishman went bogey-birdie-bogey-birdie just after the turn and looked to be building up for a charging finish but two bogeys in the last three holes put paid to his chances.
Overnight leader Senden suffered a meltdown in the trying conditions, losing his overnight lead with a double bogey after an errant drive at the first and ending up with an 82.
World number seven Adam Scott started the day five shots off the pace but never looked like making a charge and a chip-in for an eagle at the 17th was too little, too late and he finished with a 76 for a share of 14th.
Eight-times major champion Tom Watson continued his Jekyll and Hyde week, turning in three birdies in a flawless round in the relative calm of the morning to end up with a card reading 78-68-78-69 in joint 28th.
Senior is 10 years younger and has enjoyed nowhere near as much success as the American, but he was just as popular with those who braved the weather to populate the galleries.
"It was a really nasty day and I had a lot of support," Senior said.
"I can't believe how many people stayed around, I would have been home in bed by now."
Photograph: Ryan Pierse/Getty Images