Sauber unveiled their new Formula One car, looking to Ferrari's latest engine and design influence to keep them ahead of big budget rivals.
"It is smaller and lighter and I hope also faster," said Peter Sauber of a C23 that the team described as 'pragmatic' in design.
"Our goal for 2004 is to clearly increase our performance," he added.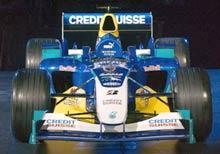 "How well we'll be able to do this primarily depends on how quickly we can translate the results of our wind tunnel work to the race track.
"With seven work teams supported by global automotive corporations taking part in the series, the competition in Formula One has become tougher than ever."
Privately-owned Sauber finished sixth overall last season, outperforming Toyota with one of the biggest budgets in the sport and Ford-owned Jaguar thanks to a points windfall at the US Grand Prix.
They have a new driver line-up in Italian Giancarlo Fisichella and Brazilian Felipe Massa, returning after a year as Ferrari tester, and a new wind tunnel due to be operational by the end of February.
The season starts in Australia on March 7.
Technical director Willi Rampf said the team had abandoned the much-copied twin-keel front suspension concept, now espoused by the radical-looking
new Williams, to achieve greater stiffness.
Despite that, the car -- bearing a marked resemblance to the 2003 championship-winning Ferrari but with an enlarged engine cover -- failed a mandatory crash test and would have to retake it this month.
"We tried to make everything smaller and I think we paid the price for it," said Rampf before an evening spectacular launching the car at sponsor Red Bull's Hangar-7 facilities at Salzburg airport.
"The 2003 season soon made us realise where our weakness was," he said.
"Owing to the fact that our new wind tunnel will not be operational until after the roll-out of the C23, we had to find another way of designing a good car with optimum pre-requisites for further development during the course of the season."
Rampf said Sauber would review the car's rear end and also take a look at Williams' radical new front nose concept in the wind tunnel: "I think everyone will be looking at that again," he added.
The C23, which also uses Ferrari's 2003 seven-speed gearbox, is due to make its track debut at the Valencia track in Spain.