Sauber unveiled a new-look car with slimmer sidepods and two new drivers on Saturday but declined to say whether they could improve on last year's sixth place in the constructors' championship.
The new car, the Sauber C32-Ferrari, is visually very different from its predecessor, boasting a smooth, slightly downward-sloping nose section and much slimmer sidepods, Sauber said.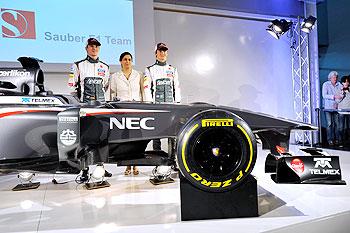 "The C31 was an extremely competitive car with many strengths," chief designer Matt Morris told an audience at the unveiling on an industrial estate near Zurich. "Our aim was to further improve these strengths and eliminate its few weaknesses."
The sidepods, which give the car a distinctive look, were the major change.
"The airflow in this area has a major influence over everything that happens at the rear of the car," said Morris,
Morris said the tyre management had also been improved and the overall weight had been reduced.
"Our car looked after its tyres very well during races last year," said Morris. "However, we had problems now and again when it came to getting the maximum out of them in qualifying. We've looked at this phenomenon closely and made the required adjustments."
The reduced weight had allowed a better distribution of the ballast, while retaining its structural requirements and mechanical setup flexibility.
"My colleagues have done an excellent job here, and we have even exceeded our original targets", said Morris.
FIRST RUN
The car will get its first run at Jerez in Spain on Tuesday.
Germany's Nico Hulkenberg, who has joined from Force India and has two Formula One seasons behind him, will team up with Formula One rookie, 21-year-old Mexican Esteban Gutierrez.
Dutchman Robin Frijns is the test and reserve driver.
Sauber managed four podium finishes and 126 points last season, compared to 44 points in 2011, although the team was somewhat inconsistent.
"We're not saying we want to finish in this or that position in the standings, as ultimately other factors will also come into play that are outside our control," said team principal Monisha Kaltenborn
"We can be clear, however, that we want to continue on our upward curve.
"We have had our eye on Nico Hulkenberg for some time and have been impressed by his performances," added Kaltenborn.
"He is very quick, but, most importantly, he's also very efficient. He understands how to pick up as many points as possible from a particular race situation."
"I'm in no doubt Esteban Gutierrez is now ready to take the final step and put his outstanding talent on display."
"Sauber made significant progress last year from 2011," said Hulkenberg, who was eleventh last season.
"Now the team is ready to take the next step, and I want to play my part in making that happen. My personal aim is to put in a good, steady performance this season."
Photograph: Harold Cunningham/Getty Images