With a knee injury keeping her off court, Indian tennis star Sania Mirza was spotted in Karachi on a holiday with her cricketer husband Shoaib Malik, who will also be competing in Pakistan's National Twenty20 Championships.
Sania got a warm welcome on arriving in the city on Sunday but refrained from speaking to the media.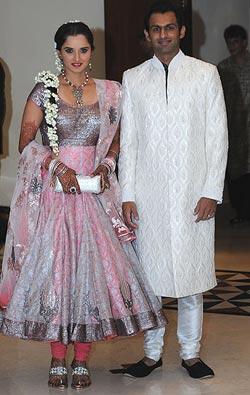 Sania has been diagnosed with a ruptured left knee miniscus and was advised a minimum six weeks rest by a specialist at the beginning of the month.
Sania, dressed in a red salwar kameez, was cheered by the people at Karachi airport when she arrived with Malik on Sunday evening.
This is the first time Sania is visiting Pakistan's biggest city since she came here to play in an international junior tennis tournament in the 90s. Malik said he hoped bilateral cricket relations with India would resume soon.
"I don't think the media should create so much hype around us and our marriage but yes I do hope that our marriage in some way helps people in both countries realise we can co-exist peacefully and help each other.
"I hope our marriage in some way helps in further improving relations between the two countries," the former Pakistan captain said.
Sania, who married Malik last April in a wedding that took the subcontinent by storm, has been in Pakistan for the last few days visiting her in-laws in Malik's hometown of Sialkot, besides traveling to Lahore on a private visit.
Sources said Malik arranged for a special permission for his wife to be in Karachi for the duration of the tournament in which he is captaining the Sialkot Stallions.
"I am here to play cricket and my wife is with me on a holiday but obviously her presence is good for me and I hope to do well in the national tournament," he said.