Samuel Eto'o said on Thursday he was considering a move from Inter Milan to the Premier League.
"The Premier League is an idea I've been thinking about for some time," Italian media reported Eto'o as saying in a television interview in Cameroon.
"The question is deciding on the right club. I've had offers from top teams but I still have to see if I'd be able to integrate into the sides."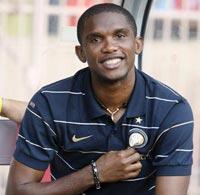 The Cameroon striker's remarks are likely to cause consternation in Milan, coming after similar comments from Dutch playmaker Wesley Sneijder and the reported imminent departure of coach Leonardo to take up a director's position at Paris St Germain.
Eto'o, who has three years left on his contract, said his choice would not be based on financial reasons.
"I have a month's holiday to decide what to do," said the former Barcelona striker, who scored 37 goals in all competitions in his second season in Italy. "I'm 30 and it's my last big chance so I want to be certain whether I should stay or go.
"The next transfer won't be about proving myself or earning an extra 100 or 200,000 euros more. Throughout my career, I've always thought first about being happy in the city I'm in, playing in a good club and enjoying myself."
Last week, Sneijder admitted he was not sure of staying at last season's Champions League winners after a disappointing second season at the San Siro when Inter failed to win the scudetto for the first time in six years.
"Only God will decide where my future lies," the Dutch midfielder told Italian newspaper Gazzetta dello Sport. "I can be certain of one thing: if I remain at Inter, then I will give my all to win everything again."
According to reports in Italy, Leonardo, who led Inter to Coppa Italia success and second place in Serie A after taking over from Rafa Benitez mid-season, had the weekend to mull over an offer to become sporting director of former club PSG on Thursday.