Two-time champion Saina Nehwal staged a grand recovery to beat fourth seeded Xuerui Li of China in the final to win the Indonesia Open Super Series badminton tournament in Jakarta on Sunday.
The World No. 5 Indian shuttler, who won the title back-to-back in 2009 and 2010, prevailed 13-21, 22-20, 21-19 in 70 minutes to claim her second title in two weeks, having won the Thailand Open Grand Prix last week.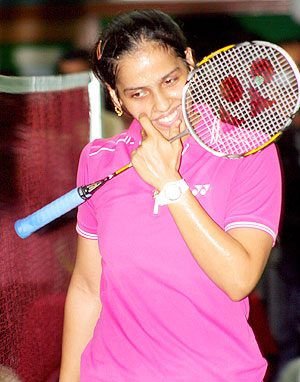 Li had stunned top seed and compatriot Yihan Wang in the semi-finals and had a 4-1 head-to-head record against the Indian ace going into the final.
After the first game, it looked like the Chinese would improve upon the record, as Saina was always at the receiving end.
Once she conceded a 0-4 lead she was always left to do the catching up job, which she could not. The Chinese girl took the first game in 17 minutes, winning 21-13.
However, Saina showed her class in the second game. After the scores ran neck and neck till 7-7, she broke away, scoring repeatedly at the net, to win 22-20.
The third game was a keen contest, but the Indian ace played her shots judiciously to race to a 20-16 lead. She broke away at 16-16 and though the Chinese pulled back a few points to cut the deficit to 19-20, Saina held her nerve to take the game and match at 21-19.
"It was a really, really tough and I love the crowd here. It's really nice here. Whenever I enter the court, I feel like a champion here," said the world number five 22-year-old, who has earlier clinched the title in 2009 and 2010.
It was a battle of attrition for Saina against an opponent to whom she had lost four times and won just once -- that too way back in 2010 -- previously.
The start was ominous for Saina as she conceded four successive points. The two players seemed engaged in a battle of smashes and were at par with each other when it came to baseline rallies.
But it was the netplay in which Li enjoyed the upperhand with her delicate winners that Saina found hard to counter in the opening game.