Ace shuttler Saina Nehwal started her campaign at the World badminton championships with a straight-set demolition of Chloe Magee of Ireland to advance to the pre-quarter-finals in the women's singles, at the Wembley arena, in London, on Wednesday.
The world No 6 proved too good for the Irish shuttler, who lost the second round contest 10-21, 7-21 in just 26 minutes.
V Diju also made a successful return to the court, as he Jwala Gutta thrashed Jien Guo Ong and Sook Chin Chong of Malaysia 21-11, 21-15 in a 29-minute mixed doubles match.
The 21-year-old Saina was at her aggressive best as she displayed her repertoire and played varied strokes to bamboozle her opponent.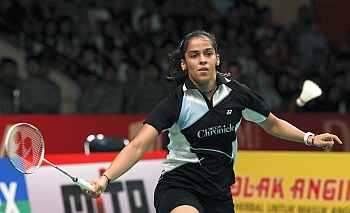 Playing after more than a month, Saina, who got a bye in the first round, took little time to get into the groove and moved ahead 3-0 in the opening game. Though Magee caught up, the Indian surged ahead easily.
After pocketing the first game, Saina turned more aggressive in the second and raced to 13-1 before slamming the door on her opponent, conceding just six more points.
"It was a good victory to start with. I was playing after a long time and she had beaten world No. 31 Adrianti Firdasari; so it is quite satisfying to start on a positive note," Saina said.
Diju, who last played in the Swiss Open in March, made a resounding return to international badminton after undergoing surgery on his back.
The 30-year-old shuttler combined well with Jwala and didn't give much chance to their opponents. The 16th seeded Indians, who got a bye in the opening round, had their nose ahead in the first game, as, from 9-7, they simply kept widening the gap.
The second game was a tooth and nail battle till 12-12 before the Indians grabbed four straight points to move ahead and register a place in the pre-quarter-finals.
"I am very happy with the game. The court was a bit slow, so we had to hit lot many smashes in each rallies," said Diju.
"I am playing after a long time and I am happy with the way my body is responding. Tomorrow will be another tough day and I hope to do well," he added.
On Tuesday, P Kashyap also made a winning start, defeating Germany's Domke Dieter in a hard-fought three-game affair to enter the second round of the men's singles.
The Commonwealth Games bronze-medallist Kashyap defeated Dieter 21-13, 23-25, 21-11 in a match that lasted close to an hour.
He will face seventh seed Tien Minh Nguyen of Vietnam in the second round.
The world number 28 Indian sent down as many as 10 smash winners to get an upperhand in the opening game.
Dieter came back in the second, keeping pace with Kashyap all through before sneaking ahead in the closing stages.
But the recovery was short-lived as Kashyap again relied on his smashes to outwit his spirited rival in the deciding third game.
Kashyap also had better control of the proceedings, clinching 10 consecutive points at one stage of the game.